Hawk Talk Monthly — November | Hawkeye Fan Shop — A Black & Gold Store | 24 Hawkeyes to Watch 2018-19 | Hawk Talk Daily | I-Club Events Page | Tom Brands Media Day Transcript | Wrestle-Off Results | Photo Gallery
By DARREN MILLER
hawkeyesports.com
IOWA CITY, Iowa — It has been a nine-year break that doesn't sit well with University of Iowa head wrestling coach Tom Brands.
 
With Brands in charge, the Hawkeyes have never finished lower than eighth in the country, and that was his initial season in 2006-07.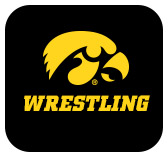 Since then, there has been a fifth place, three fourth-place finishes, three third-places, and a runner up.
 
"Two, three, or four is easy," Brands said Monday during a media day news conference in Carver-Hawkeye Arena. "One, that's tough. Being one is tough."
 
Under Brands, the Hawkeyes have been "one" three times at the end of the season. But in the past eight years, the NCAA title has resided in State College, Pennsylvania, seven times. In  2015, it took a detour in Columbus, Ohio.
 
"The challenge is great," said Brands. "If you want to be the champion, be the champion. We have a school to the north, a school to the west, schools to the east, schools to the south. We're up for it."
 
A year ago, the Hawkeyes were 12-3 overall, with all three losses coming in Big Ten duals. Seven starters and four All-Americans return from a team that finished fourth at the Big Ten tournament and third at the NCAA Championships. One of those All-Americans is sophomore Spencer Lee, the defending 125-pound champion.
 
"He scores a lot of points and we want guys that score points," Brands said. "He inspires guys to wrestle like Spencer Lee; be like Lee, scoring a lot of points turns into bonus points."
 
Of Lee's 22 wins, nine were by fall, eight by technical fall, and one by major decision. At last year's NCAA Tournament, he won two matches by fall and two by technical fall.
 
"Go out and take what you want," Brands said.
 
The other returning All-Americans are sophomore Alex Marinelli (165), junior Michael Kemerer (174), and senior Sam Stoll (285).
 
Marinelli won his first 14 matches last season and finished 19-6. He was sixth at Big Tens and NCAAs.
 
"Fans get excited about those guys returning," Brands said. "Let's talk about Marinelli. He's a ferocious competitor, we love him. He lives the right lifestyle and he's the voice in the locker room."
 
Kemerer moves from 157 to 174. He is 60-6 in his career with third and fourth-place finishes at the NCAA Championships.
 
"He's a big, strong man," Brands said. "He's someone we work hard on every day to be the best that he can be, it doesn't matter the weight class."
 
Stoll is coming off a season where he posted career-highs with 25 victories and matched a career high with 10 falls. He was fifth at the 2018 NCAA Tournament, where he received the Gorriarian Trophy for most pins in the least amount of time.
 
Other returning starters include junior Paul Glynn at 133, junior Vince Turk and sophomore Carter Happel at 141, senior Mitch Bowman at 184, and junior Cash Wilcke at 197. Redshirt freshman Jacob Warner will compete at 197, moving Wilcke to 184.
 
"His athleticism will come out more at 184," Brands said of Wilcke. "He is a dynamic athlete with all these tools, quickness, and explosion. I think he'll be able to manage matches better."
 
Based on wrestle-off results, there could be new faces in the lineup. Sophomore Austin DeSanto will battle for a spot at 133 after transferring from Drexel. Redshirt freshman Max Murin emerged at 141. Junior Pat Lugo could be at 149 after transferring a year ago from Edinboro, and sophomore Kaleb Young is ready for a starting spot at 157.
 
"You look at the new faces we have," Brands said. "You look at Murin, I mean, name them. We have four returning All-Americans, that means six weight classes are up for grabs. We're really excited about what's going on."
 
The Hawkeyes open the season Friday at Kent, Ohio. They take on Cal-Bakersfield at 4:30 p.m. (CT), then Kent State at 6.