Hawk Talk Monthly — November | Hawkeye Fan Shop — A Black & Gold Store | 24 Hawkeyes to Watch 2018-19 | I-Club Events Page | Match Notes | Tom Brands Media Day Transcript | Hawk Talk Daily
ON THE MAT
The third-ranked University of Iowa wrestling team travels to Kent, Ohio, to compete against Cal State Bakersfield and Kent State at the Frenzy and the Field House.
      The doubleheader begins Friday at 4:30 p.m. (CT) against CSU Bakersfield. Iowa's dual against host Kent State follows at 6:30 p.m. Both duals are at the Kent State Field House.
 
IOWA VS. CSU BAKERSFIELD
Iowa and Cal State Bakersfield are meeting for the seventh time. The Hawkeyes are 6-0 all-time against the Roadrunners.
      The teams met each year during a six-year stretch that began with a 30-14 Hawkeye win in 1979. Iowa won the sixth and most recent meeting, 39-5, in 1984.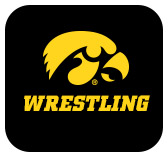 IOWA VS. KENT STATE
Iowa and Kent State are meeting for the first time in series history.
      The  Golden Flashes are members of the  MidAmerican Conference. They placed fourth at the MAC Championships and 22nd at the NCAA Championships in 2018.
      Kent State is led by senior Kyle Conel, who placed third at 197 pounds at last season's NCAA Championships.
 
HAWKEYE WRESTLING HISTORY
Iowa's next dual win will be No. 1,000 in program history. Iowa's overall dual meet record is 999-230-31 (.799) in 108 seasons.      The University of Iowa would be the fourth team in NCAA history to reach 1,000 program wins (Oklahoma State, 1105; Iowa State, 1065; Oregon State, 1029).
      The Hawkeyes have won 23 national titles and 35 Big Ten titles. Iowa's 55 NCAA Champions have won a total of 83 NCAA individual titles, crowning six three-time and 16 two-time champions. The Hawkeyes' 112 Big Ten champions have combined for 199 conference titles. There have been seven four-time, 18 three-time, and 30 two-time Big Ten champions from Iowa.
      Iowa's 157 All-Americans have earned All-America status 329 times, including 20 four-time, 36 three-time and 40 two-time honorees.
 
HELLO, MY NAME IS:
Iowa's probable lineup includes six wrestlers who could make their Hawkeye debuts. Of those six, four could make their collegiate debut. They include redshirt freshmen Max Murin (141), Myles Wilson (174), Connor Corbin (197, and Aaron Costello (285).
      Transfers Austin DeSanto (133) and Pat Lugo (149) will wear Iowa's black singlet for the first time. DeSanto wrestled at Drexel last season as a true freshman. Lugo redshirted at Iowa last year after wrestling two seasons at Edinboro.
 
IOWA All-americaNS
Iowa returns All-Americans Spencer Lee (125), Michael Kemerer (157), Alex Marinelli (165), and Sam Stoll (285). The Hawkeyes graduated four-time All-American Brandon Sorensen.
      The Hawkeyes have crowned at least one All-American in 47 consecutive seasons, a stretch dating back to 1972. Iowa has totaled 283 All-America honors during that stretch.
 
UP-AND-DOWN THE LINEUP
Junior Cash Wilcke and sophomore Kaleb Young return to the lineup, but with different addresses. Young now resides at 157. He was 9-7 last year wrestling at 165 and 174.
      Wilcke was a national qualifier in 2017 and 2018 competing at 197 pounds, but will wrestle at 184 in 2018-19. The same spot he wrestled as a true freshman (13-3).
 
CHASING THE HAWKEYES
Gary Kurdelmeier led Iowa to its first NCAA Championship in 1975, and in the 44 years since, the Hawkeyes have accumulated 23 team titles, more than any other school — Oklahoma State (7), Penn State (7), Minnesota (3), Iowa State (2), Ohio State (1) and Arizona State (1).
 
A LOOK BACK ON THE MAT
Iowa placed fourth at the Big Ten Championships and third at the NCAA Championships in 2018. The Hawkeyes finished the 2017-18 season with one NCAA individual champion, five All-Americans, and 10 academic All-Big Ten honors. The Hawkeyes owned an overall record of 12-3 and a Big Ten record of 6-3.