24 Hawkeyes to Watch 2018-19 | Hawk Talk Monthly — November | Hawkeye Fan Shop — A Black & Gold Store | Hawk Talk Daily | I-Club Events Page
KENT, Ohio – The University of Iowa Wrestling team opened the 2018-19 season with a sweep of Cal State Bakersfield and Kent State on Friday night in Kent, Ohio.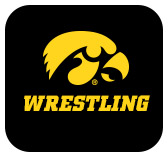 The Hawkeyes won nine-of-10 bouts in the opener to top CSUB, 36-3. The Hawkeyes won twice by technical fall, five times by major decision, and held a 37-4 advantage in takedowns.
 
The win against the Roadrunners was the 1,000th dual win in program history. Iowa is one of four schools in NCAA history to reach the 1,000 win plateau.
 
The Hawkeyes swept 10 matches against the Golden Flashes, stringing together four pins from 141-165 and adding a technical fall at 125.
 
Quoting Head Coach Tom Brands
On the newcomers:
"I liked the pace. I like the opportunity these guys have and making the most of them. We left Stoll at home. We have Warner at home. We have Kemerer at home. We have Vince Turk at home. We have a lot of depth that still isn't here, but tribute to our depth for getting the job done. WE have a heavyweight fans haven't seen before. Aaron Costello did the job. Max Murin, first time in the lineup, did the job. You can go through lineup and I could give credit to a lot of people."
 
On win No. 1,000:
"Those thousand wins go way back to E.G. Schroeder, the first coach, and come all the way through Mike DeAnna, who was here tonight, and Gable, and here we are. The most important thing is getting win No. 1,002. That's coming up next; Princeton on Friday night."  
NOTABLES
Iowa is one of four schools in NCAA history to reach 1,000 program wins (Oklahoma State, Iowa State, Oregon State).
Max Murin, Myles Wilson, Connor Corbin, and Aaron Costello made their collegiate debuts.
Austin DeSanto and Pat Lugo made their Hawkeye debuts.
Spencer Lee was on the mat for a combined 3 minutes, 34 seconds. He scored an early takedown in both matches, added three four-point tilts in each to win by identical 18-0 scores.
 
 
UP NEXT
The Hawkeyes host Princeton on Friday, Nov. 16 at 7 p.m. at Carver-Hawkeye Arena. Tickets are available at hawkeyesports.com/tickets.
 
#3 IOWA 36, CSU Bakersfield 3
125 — #1 Spencer Lee (IA) tech. fall Alex Hernandez-Fegueroa (CSUB), 18-0; 5-0
133 — #11 Austin DeSanto (IA) tech. fall #18 Sean Nickell (CSUB), 22-6; 10-0
141 — Max Murin (IA) major dec. Carlos Herrera (CSUB), 18-4; 14-0
149 — Russell Rohlfing (CSUB) dec. #10 Pat Lugo (IA), 10-9; 14-3
157 — #15 Kaleb Young (IA) major dec. Wyatt Gerl (CSUB), 13-4; 18-3
165 — #4 Alex Marinelli (IA) major dec. Jacob Thalin (CSUB), 14-4; 22-3
174 — Myles Wilson (IA) major dec. Bryan Battisto (CSUB), 12-4; 26-3
184 — #12 Cash Wilcke (IA) major dec. Dominic Ducharme (CSUB), 12-4; 30-3
197 — Mitch Bowman (IA) dec. Mark Penyacsek (CSUB), 6-2; 33-3
285 — Aaron Costello (IA) dec. Jacob Sieder (CSUB), 6-1; 36-3
Records: Iowa (1-0), CSU Bakersfiled (2-1)
Takedowns: Iowa 37, CSUB 4
 
#3 IOWA 45, Kent State 0
125 — #1 Spencer Lee (IA) tech. fall Jake Ferri (KS), 18-0; 5-0
133 — #11 Austin DeSanto (IA) dec. Raphael Rodriguez (KS), 8-7; 8-0
141 — Max Murin (IA) pinned Cory Simpson (KS), 4:29; 14-0
149 — #10 Pat Lugo (IA) pinned Kody Komara (KS), 2:17; 20-0
157 — #15 Kaleb Young (IA) pinned Richard Jackson (KS), 4:04; 26-0
165 — #4 Alex Marinelli (IA) pinned Isaac Bast (KS), 2:16; 32-0
174 — Myles Wilson (IA) dec. Dylan Barreiro (KS), 12-9; 35-0
184 — #12 Cash Wilcke (IA) major dec. Andrew McNalley (KS), 18-7; 39-0
197 — Connor Corbin (IA) dec. Shane Mast (KS), 8-3; 42-0
285 — Aaron Costello (IA) dec. Billy Bolia (KS), 4-1: 45-0
Records: Iowa (2-0), Kent State (3-2)