24 Hawkeyes to Watch 2018-19 | Hawk Talk Monthly — November | Hawkeye Fan Shop — A Black & Gold Store | Hawk Talk Daily links
By DARREN MILLER
hawkeyesports.com
IOWA CITY, Iowa — Recent history is all the University of Iowa women's basketball team needs to avoid overlooking Western Kentucky when the Hawkeyes make their first road trip of the young season Tuesday.
 
A year ago, Iowa overcame a five-point deficit with 95 seconds left in regulation, then outscored the Lady Toppers, 11-4, in overtime for a 104-97 win in the Hawkeye Classic. That game was played on Mediacom Court inside Carver-Hawkeye Arena. On Tuesday, the teams will meet in E.A. Diddle Arena in Bowling Green, Kentucky.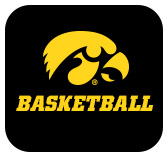 To say Western Kentucky is solid at home is an understatement. It has been five seasons since the Lady Toppers lost more than once on their home floor. They opened the 2018-19 season with a loss at home to Louisville, 102-80.
 
"We know it is going to be a big challenge," Iowa head coach Lisa Bluder said Monday during a teleconference. "Going on the road this early is something we haven't done a lot of in the past."
 
It helps that the Hawkeyes have three seniors and a junior in the starting lineup, even though they will be without starting guard Kathleen Doyle for several more weeks. In a season-opening 90-77 win over Oral Roberts on Nov. 9, Iowa received 23 points, 17 rebounds, and six assists from senior Megan Gustafson, 19 points and six rebounds from senior Hannah Stewart, nine points, three 3-point field goals and 29 minutes from senior Tania Davis, and 13 points from junior Makenzie Meyer.
 
"When you have a veteran team, it covers up for a lot of those young, inexperienced mistakes," Bluder said. "It really does make a difference going on the road. We have spent some time talking about that to our younger kids — we talk about all the things that are bad about going on the road and how we handle those things and then everything that is good about going on the road. It was a good exercise for our younger players."
 
Bluder said it will also be important to get younger Hawkeyes acclimated to life away from Carver-Hawkeye Arena. After returning home to play North Carolina Central on Nov. 17, Iowa will play on back-to-back days in Bimini, Bahamas, then travel to No. 1 Notre Dame on Nov. 29.
 
Sophomore Alexis Sevillian is in the starting lineup and she logged a team-high 35 minutes in the win over Oral Roberts. Junior Amanda Ollinger played 14 minutes and sophomore Zion Sanders played 11. Freshmen Logan Cook (nine minutes), Monika Czinano (nine minutes), and Tomi Taiwo (five minutes) also saw action.
 
"Without Doyle and then having Tania not at full strength, we are going to be counting on those young ladies in those two games (in the Bahamas)," Bluder said. "It is important that we get them in back-to-back games."
 
Bluder expects a high-scoring game Tuesday between two teams that excel in transition. The Lady Toppers are 0-2, but scored 80 against Louisville and 83 at Oklahoma. Iowa is coming off a 90-point performance where it scored 49 in the first half, but was then outscored 54-41 in the second half. Oral Roberts made 16 3-point field goals, 12 in the final 20 minutes.
 
"A lot of them were very, very deep 3s when we looked at the film," Bluder said. "But some of them were communication errors and I do think those can be corrected. We got mixed up on some switches, or even like switching and not jumping out on shooters or identifying those shooters."
 
 Bluder says there is a lot to like about the Hawkeyes after exhibition and season-opening victories. Through the first two outings, Iowa is averaging 96 points and 27.5 assists, and the Hawkeyes have outrebounded the two opponents by an average of 18 per game.
 
"This early in the year we have scored and rebounded well, we have had great passing, we have done a lot of good things on offense," Bluder said.
 
Iowa and Western Kentucky will tip-off at 6 p.m. (CT). The game will be streamed on ESPN3.