24 Hawkeyes to Watch 2018-19 | Hawk Talk Monthly — November | Hawkeye Fan Shop — A Black & Gold Store | I-Club Events Page | Hawk Talk Daily
DES MOINES, Iowa — Freshmen Nelson Brands and Tony Cassioppi, and sophomore Justin Stickley all won titles at their respective weight classes Saturday at the Grand View Open.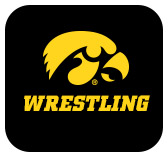 Cassioppi pinned his way to the 285-pound championships, piling up four first period falls in a total of nine minutes, five seconds.
Brands won by fall, technical fall, and major decision to reach the finals, where he won by medical forfeit at 165 pounds.
Stckley went 4-0 with three major decisions to  win the 141-pound championships.
Four more Hawkeyes placed at the tournament. Joe Kelly pinned his first three opponents and finished the day 5-1, placing third in the 157-pound Fresh/Soph Division. Keegan Shaw placed third in the open 157 bracket, scoring bonus points in four matches. Jeremiah Moody placed runner-up in the same bracket, winning his opening match by fall and scoring 44 points in his next three matches to reach the finals. Zach Axmear placed sixth at 149. 
GRAND VIEW OPEN RESULTS
Fresh/Soph 157
Joe Kelly — 3rd place
Champ. Round 1 – Joe Kelly (Iowa) won by fall over Jared Serville (Benedictine) (Fall 3:53)
Champ. Round 2 – Joe Kelly (Iowa) won by fall over Darren Stewart (Iowa Western Comm College) (Fall 3:12)
Quarterfinal – Joe Kelly (Iowa) won by fall over Cooper McCullough (North Idaho) (Fall 1:31)
Semifinal – Cayd Lara (Northern Iowa) won by decision over Joe Kelly (Iowa) (Dec 14-7)
Cons. Semi – Joe Kelly (Iowa) won by medical forfeit over Zach Garza (Ellsworth Community College) (MFF)
3rd Place Match – Joe Kelly (Iowa) won by decision over Isaac Judge (Iowa State University) (Dec 6-5)
Open 141
Justin Stickley — 1st place
Champ. Round 1 – Justin Stickley (Iowa) received a bye () (Bye)
Champ. Round 2 – Justin Stickley (Iowa) won by major decision over Gabe Blough (Saint Mary`s) (Maj 14-1)
Quarterfinal – Justin Stickley (Iowa) won by decision over Ryan Leisure (Iowa State University) (Dec 6-3)
Semifinal – Justin Stickley (Iowa) won by major decision over Gaige Torres (Indiana Tech) (Maj 15-7)
1st Place Match – Justin Stickley (Iowa) won by decision over Eric Clarke (Grand View ) (Dec 6-3)
Open 149
Zach Axmear — 6th place
Champ. Round 1 – Zach Axmear (Iowa) received a bye () (Bye)
Quarterfinal – Zach Axmear (Iowa) won by decision over Zemua Baptista (Nebraska) (Dec 8-5)
Semifinal – Devin Reynolds (Grand View ) won by decision over Zach Axmear (Iowa) (Dec 7-2)
Cons. Semi – Derek Holschlag (Northern Iowa) won by decision over Zach Axmear (Iowa) (Dec 9-4)
5th Place Match – Zemua Baptista (Nebraska) won by decision over Zach Axmear (Iowa) (Dec 13-6)
Open 157
Preston Stephenson
Champ. Round 1 – Preston Stephenson (Iowa) received a bye () (Bye)
Champ. Round 2 – Steven Lawrence (Grand View ) won by decision over Preston Stephenson (Iowa) (Dec 6-5)
Cons. Round 2 – Preston Stephenson (Iowa) received a bye () (Bye)
Cons. Round 3 – Preston Stephenson (Iowa) won by decision over Hunter Washburn (Northern Iowa) (Dec 10-4)
Cons. Round 4 – Preston Stephenson (Iowa) won by decision over David Hollingsworth (Iowa Lakes Community College) (Dec 7-5)
Cons. Round 5 – Caleb Licking (Nebraska) won in sudden victory – 1 over Preston Stephenson (Iowa) (SV-1 6-4)
Open 157
Keegan Shaw — 3rd place
Champ. Round 1 – Keegan Shaw (Iowa) received a bye () (Bye)
Champ. Round 2 – David Carr (Iowa State University) won by decision over Keegan Shaw (Iowa) (Dec 6-3)
Cons. Round 2 – Keegan Shaw (Iowa) received a bye () (Bye)
Cons. Round 3 – Keegan Shaw (Iowa) won by tech fall over Patrick Boulanger (Saint Mary`s) (TF 23-8)
Cons. Round 4 – Keegan Shaw (Iowa) won by major decision over Jake Silverstein (Nebraska) (Maj 12-3)
Cons. Round 5 – Keegan Shaw (Iowa) won by fall over Peyton Robb (Nebraska) (Fall 2:24)
Cons. Semi – Keegan Shaw (Iowa) won by fall over Steven Lawrence (Grand View ) (Fall 4:31)
3rd Place Match – Keegan Shaw (Iowa) won by decision over Renaldo Rodriguez-Spencer (Grand View ) (Dec 7-6)
Open 157
Danny Murphy
Champ. Round 1 – Danny Murphy (Iowa) won by fall over Pat Schoenfelder (Northern Iowa) (Fall 5:31)
Champ. Round 2 – Jake Silverstein (Nebraska) won by injury default over Danny Murphy (Iowa) (Inj. 0:09)
Cons. Round 2 – Mason Gaines (Indiana Tech) won by injury default over Danny Murphy (Iowa) (Inj. 0:00)
Open 157
Jerimiah Moody — 2nd place
Champ. Round 1 – Jerimiah Moody (Iowa) won by fall over Mason Gaines (Indiana Tech) (Fall 4:16)
Champ. Round 2 – Jerimiah Moody (Iowa) won by tech fall over Dylan Brazell (Graceland) (TF 25-10)
Quarterfinal – Jerimiah Moody (Iowa) won by decision over David Hollingsworth (Iowa Lakes Community College) (Dec 5-4)
Semifinal – Jerimiah Moody (Iowa) won in sudden victory – 1 over Steven Lawrence (Grand View ) (SV-1 14-12)
1st Place Match – David Carr (Iowa State University) won by major decision over Jerimiah Moody (Iowa) (Maj 9-0)
Open 165
Nelson Brands' — 1st place
Champ. Round 1 – Nelson Brands (Iowa) received a bye () (Bye)
Champ. Round 2 – Nelson Brands (Iowa) won by fall over Ron Evans (Lindenwood – Belleville (Ill.), IL) (Fall 2:23)
Quarterfinal – Nelson Brands (Iowa) won by tech fall over Sal Arzani (Grand View ) (TF 20-4)
Semifinal – Nelson Brands (Iowa) won by major decision over Jacob Gross (Indiana Tech) (Maj 12-4)
1st Place Match – Nelson Brands (Iowa) won by medical forfeit over Ryan Niven (Grand View ) (MFF)
Open 165
Tristan McDonald
Champ. Round 1 – Tristan McDonald (Iowa) received a bye () (Bye)
Champ. Round 2 – Hunter Gasper (Indiana Tech) won by decision over Tristan McDonald (Iowa) (Dec 3-2)
Cons. Round 2 – Tristan McDonald (Iowa) received a bye () (Bye)
Cons. Round 3 – Tristan McDonald (Iowa) won by major decision over James Buckhanan (Briar Cliff) (Maj 12-2)
Cons. Round 4 – Syd Ohl (Life) won by major decision over Tristan McDonald (Iowa) (Maj 15-6)
Open 197
Cade Brownlee
Champ. Round 1 – Joe Teague (Iowa State University) won by major decision over Cade Brownlee (Iowa) (Maj 12-2)
Cons. Round 1 – Cade Brownlee (Iowa) won by fall over Steven Gregory (Grand View ) (Fall 7:24)
Cons. Round 2 – Cade Brownlee (Iowa) won by fall over Sheldon Rodriguez (William Penn ) (Fall 4:20)
Cons. Round 3 – Diallo Matsimella (Life) won by major decision over Cade Brownlee (Iowa) (Maj 14-4)
Open 285
Tony Cassioppi — 1st place
Champ. Round 1 – Anthony Cassioppi (Iowa) won by fall over Austin Emerson (Nebraska) (Fall 2:53)
Quarterfinal – Anthony Cassioppi (Iowa) won by fall over Ethan Andersen (Iowa State University) (Fall 2:26)
Semifinal – Anthony Cassioppi (Iowa) won by fall over Jimsher Sudhu (Life) (Fall 1:08)
1st Place Match – Anthony Cassioppi (Iowa) won by fall over Cooper Thomas (Grand View ) (Fall 2:38)