Hawk Talk Daily | Hawk Talk Monthly — November | 24 Hawkeyes to Watch
By RICK BROWN
hawkeyesports.com
 
IOWA CITY, Iowa — Jordan Bohannon's selfless act has helped keep Chris Street's legacy alive.
 
And Saturday evening, the University of Iowa's junior point guard will be honored in St. Louis for something he rarely does. Miss a free throw.
Bohannon will be one of the honorees at the 2018 Musial Awards, an event that celebrates the greatest moments of sportsmanship and those in sports who embody class and character.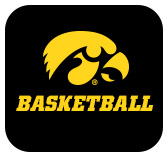 The world took notice when Bohannon intentionally missed the front end of a one-and-one with 2 minutes, 15 seconds remaining in a game with Northwestern on Feb. 25, 2018.
 
Street, who died in a traffic accident on Jan. 19, 1993, midway through his junior season, had set a school record for consecutive made free throws with 34 at Duke three days before his death. He never got a chance to make No. 35.
 
Bohannon did get that chance and he missed it on purpose to keep Chris Street's name in the record book . Now he's being honored for his inspiring act.
 
"It's a pretty tall task to try and fill the shoes of Chris Street and represent them because of the person he was, and how he portrayed himself and what he meant to the university, to Iowa, and the entire Big Ten Conference," Bohannon said.
 
Iowa head coach Fran McCaffery said he is proud of Bohannon for receiving such a distinguished honor.
 
"He'll represent us in a very positive light," McCaffery said. "It keeps Chris Street's story alive and it's well deserved. I'm thrilled for him."
Bohannon will be joined in St. Louis by his parents, Brenda and Gordy, and Street's parents, Patty and Mike.
 
"As time goes on, I'm in awe even more of what Jordan actually did and the respect he paid Christopher," Mike Street said. "We're honored to participate in this awards ceremony."
 
The Streets became close to Bohannon earlier in his career, but the way he honored their son has made the bond even tighter.
 
"Jordan and Patty hit it off really well," Mike said. "It's neat to see. What a great young man, and what a great family."
 
Bohannon's miss for Chris drew a lot of media attention.
 
"One thing that has gotten to me is the amount of outreach it got across the world," Jordan said. "I was getting letters and emails from Australia, Turkey… name a country in Europe, I got a letter.
 
"I was getting direct messages and tweets from people all over the world. It was insane and I didn't do it for me. It was all for Chris Street, who he was, and what great people Mike and Patty are. That's why I did it."
 
The Musial Awards are named after the late Stan Musial, a St. Louis Cardinals' baseball legend who was beloved for his approach to life and the game on and off the field. The mission of the Musial Awards is to encourage selflessness, integrity and civility in sports and society, and to inspire people across the country to be good sports.
 
Street passed away 3 1/2  years before Bohannon was born.
 
"Growing up in Iowa, I knew quite a bit about people who played at Iowa in the past," Bohannon said. "I knew of Chris Street and his story a little bit."
 
When the freshman class moved to Iowa City in the summer of 2016, Bohannon came to Carver-Hawkeye Arena to get some shots up. He saw the Street tribune that hangs outside the team locker room. He stopped to read the poem, "Don't Quit," that is part of that tribute. Jordan met Patty and Mike Street for the first time six weeks later at a scholarship dinner.
 
As he got closer and closer to Street's record last season, Bohannon wondered what he should do if he had a chance to break the record. He asked teammate Cordell Pemsl in their hotel room before a game at Illinois on Jan, 11. He got feedback from his brother, Zach, and other members of his family. He asked Brad Floy, the Hawkeyes' basketball trainer, for advice.
 
"They all knew what I was going to do," Bohannon said.
 
If he gets in that position again during his Iowa career, Jordan won't consult with anyone. He already knows what he'll do.
 
"I'm missing it," he said.