Hawk Talk Monthly — November | 24 Hawkeyes to Watch 2018-19 | Hawkeye Fan Shop — A Black & Gold Store | I-Club Events Page | Hawk Talk Daily
ST. CHARLES, Missouri — Freshmen Nelson Brands and Tony Cassioppi won tournament titles for the second time in as many weeks, and Vince Turk grabbed a championship in his 2018-19 debut to lead the Hawkeyes at the Lindenwood Open on Saturday.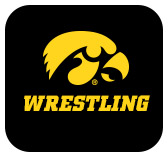 Cassioppi won by major decision in his opening bout and finished his run through the 285-pound bracket with three consecutive falls. Brands was 4-0 win a technical fall in the 165-pound bracket, and Turk went 4-0 with a major decision in the 141-pound bracket. All three wrestlers were competing in the Gold Division. 
Redshirt freshman Zach Axmear won his first collegiate tournament in impressive fashion. Axmear pinned four opponents and added a technical fall to win the 149-pound title in the Black Division. 
Paul Glynn, Jeren Glosser, and Carter Happel also placed in their season debuts. Glosser picked up a pair of falls to reach the 157-pound finals, where he dropped a 6-5 decision in the championship match. Happel won three matches by major decision to place fourth at 141. Glynn split four matches to place fifth at 133. 
Lindenwood Open Results
Gold Division (Open) 125
Perez Perez
Champ. Round 1 – Michael DeAugustino (Northwestern) won by decision over Perez Perez (Iowa) (Dec 7-3)
Cons. Round 1 – Perez Perez (Iowa) received a bye () (Bye)
Cons. Round 2 – Kevin Radcliff (Iowa Central Community College) won by decision over Perez Perez (Iowa) (Dec 3-2)
Gold Division (Open) 133
Paul Glynn — 5th place
Champ. Round 1 – Paul Glynn (Iowa) received a bye () (Bye)
Quarterfinal – Paul Glynn (Iowa) won by decision over Tanner Hitchcock (Lindenwood (Mo.)) (Dec 6-2)
Semifinal – Danny Swan (Lindenwood (Mo.)) won by decision over Paul Glynn (Iowa) (Dec 2-1)
Cons. Semi – Todd Small (Cyclone RTC) won by decision over Paul Glynn (Iowa) (Dec 7-3)
5th Place Match – Paul Glynn (Iowa) won by major decision over Charles McNeal (McKendree University) (Maj 10-1)
Gold Division (Open) 141
Carter Happel — 4th place
Champ. Round 1 – Carter Happel (Iowa) received a bye () (Bye)
Champ. Round 2 – Carter Happel (Iowa) won by major decision over Sam Ritchie (Missouri) (Maj 18-6)
Quarterfinal – Carter Happel (Iowa) won by major decision over Tyler Stegall (Maryville University) (Maj 18-7)
Semifinal – Ian Parker (Iowa State) won by decision over Carter Happel (Iowa) (Dec 10-3)
Cons. Round 4 – Carter Happel (Iowa) won by major decision over Alec McKenna (Northwestern) (Maj 14-3)
3rd Place Match – Quinn Kinner (Ohio State) won by decision over Carter Happel (Iowa) (Dec 9-7)
Gold Division (Open) 141
Vince Turk — 1st place
Champ. Round 1 – Vince Turk (Iowa) received a bye () (Bye)
Champ. Round 2 – Vince Turk (Iowa) won by decision over Parker Bohannan (Oklahoma City) (Dec 2-0)
Quarterfinal – Vince Turk (Iowa) won by decision over Ryan Leisure (Iowa State) (Dec 10-3)
Semifinal – Vince Turk (Iowa) won by major decision over Quinn Kinner (Ohio State) (Maj 10-2)
1st Place Match – Vince Turk (Iowa) won by decision over Ian Parker (Iowa State) (Dec 6-5)
Black Division (Fresh/Soph) 149
Zach Axmear — 1st place
Champ. Round 1 – Zach Axmear (Iowa) won by fall over Austin Landow (Lindenwood (Mo.)) (Fall 5:17)
Champ. Round 2 – Zach Axmear (Iowa) won by fall over Noah Nemer (Iowa State) (Fall 1:26)
Quarterfinal – Zach Axmear (Iowa) won by fall over Eddie Ordonez (Illinois) (Fall 5:34)
Semifinal – Zach Axmear (Iowa) won by tech fall over Keenan Graef (Benedictine College) (TF 19-1)1st Place Match – Zach Axmear (Iowa) won by fall over Nathan Swartz (Northern Illinois) (Fall 2:56)Gold Division (Open) 157
Preston Stephenson
Champ. Round 1 – Preston Stephenson (Iowa) received a bye () (Bye)
Champ. Round 2 – Eric Barone (Illinois) won by decision over Preston Stephenson (Iowa) (Dec 12-5)
Cons. Round 2 – Preston Stephenson (Iowa) won by decision over Kyle Lee (Williams Baptist) (Dec 8-4)
Cons. Round 3 – Justin Ruffin (Southern Illinois Edwardsville) won by major decision over Preston Stephenson (Iowa) (Maj 14-1)
Gold Division (Open) 157
Keegan Shaw
Champ. Round 1 – Keegan Shaw (Iowa) received a bye () (Bye)
Champ. Round 2 – David Carr (Iowa State) won by decision over Keegan Shaw (Iowa) (Dec 11-4)
Cons. Round 2 – Keegan Shaw (Iowa) won by fall over Chris Gillesse (McKendree University) (Fall 2:00)
Cons. Round 3 – Keegan Shaw (Iowa) won by decision over Qiante Wagner (McKendree University) (Dec 8-2)
Cons. Round 4 – Keegan Shaw (Iowa) won by fall over Nick McGhee (Maryville University) (Fall 2:04)
Consolation 1st – Keegan Shaw (Iowa) won by decision over Lane Stigall (Missouri) (Dec 10-6)
Gold Division (Open) 157
Jeremiah Moody
Champ. Round 1 – Jeremiah Moody (Iowa) won by decision over Matt Pratt (Maryville University) (Dec 2-0)
Champ. Round 2 – Jeremiah Moody (Iowa) won by tech fall over Shaylan Loomis (Lindenwood – Belleville (Ill.)) (TF 20-5)
Quarterfinal – Erich Byelick (Northwestern) won by decision over Jeremiah Moody (Iowa) (Dec 5-4)
Cons. Round 3 – Tyler Mann (Ouachita Baptist University) won by decision over Jeremiah Moody (Iowa) (Dec 8-3)
Gold Division (Open) 157
Jeren Glosser — 2nd place
Champ. Round 1 – Jeren Glosser (Iowa) received a bye () (Bye)
Champ. Round 2 – Jeren Glosser (Iowa) won by fall over Lane Stigall (Missouri) (Fall 4:54)
Quarterfinal – Jeren Glosser (Iowa) won by decision over Johnny Mologousis (Illinois) (Dec 9-5)
Semifinal – Jeren Glosser (Iowa) won by fall over Eric Barone (Illinois) (Fall 6:35)
1st Place Match – David Carr (Iowa State) won by decision over Jeren Glosser (Iowa) (Dec 7-3)
Gold Division (Open) 165
Tristan McDonald
Champ. Round 1 – Dan Braunagel (Illinois) won by tech fall over Tristan McDonald (Iowa) (TF 21-2)
Cons. Round 1 – Tristan McDonald (Iowa) won by medical forfeit over Ron Evans (Lindenwood – Belleville (Ill.)) (MFF)
Cons. Round 2 – Tyler Harrington (Maryville University) won by decision over Tristan McDonald (Iowa) (Dec 8-2)
Gold Division (Open) 165
Nelson Brands — 1st place
Champ. Round 1 – Nelson Brands (Iowa) won by tech fall over Tim McCarthy (Illinois) (TF 20-4)
Quarterfinal – Nelson Brands (Iowa) won by decision over Kyle Jolas (Lindenwood (Mo.)) (Dec 10-5)
Semifinal – Nelson Brands (Iowa) won by decision over Joseph Gunther (Illinois) (Dec 3-1)
1st Place Match – Nelson Brands (Iowa) won by decision over Dan Braunagel (Illinois) (Dec 3-1)
Gold Division (Open) 197
Cade Brownlee
Champ. Round 1 – William Miklus (Iowa State) won by fall over Cade Brownlee (Iowa) (Fall 0:25)
Cons. Round 1 – Drew Mccollum (Hannibal-LaGrange (MO)) won by fall over Cade Brownlee (Iowa) (Fall 1:24)
Gold Division (Open) 285
Tony Cassioppi — 1st place
Champ. Round 1 – Tony Cassioppi (Iowa) received a bye () (Bye)
Champ. Round 2 – Tony Cassioppi (Iowa) won by major decision over Jacob Bohlken (Missouri) (Maj 9-1)
Quarterfinal – Tony Cassioppi (Iowa) won by fall over Dustin Politte (Maryville University) (Fall 1:08)
Semifinal – Tony Cassioppi (Iowa) won by fall over Colton McKiernan (Southern Illinois Edwardsville) (Fall 2:03)
1st Place Match – Tony Cassioppi (Iowa) won by fall over Gannon Gremmel (Iowa State) (Fall 4:20)