Hawkeye Fan Shop — A Black & Gold Store | 24 Hawkeyes to Watch 2018-19 | I-Club Events Page | Hawk Talk Monthly — November | Hawk Talk Daily | Purdue Recap (With Photos & Video)
By DARREN MILLER
hawkeyesports.com
IOWA CITY, Iowa — Mitch Bowman stepped on a scale Saturday inside Carver-Hawkeye Arena, comfortable with his weight before the No. 3 Hawkeyes took on No. 14 Purdue in a Big Ten wrestling opener.
 
The numbers on the scale agreed with Bowman's hunch: 182.5 pounds. The University of Iowa senior from Donahue, Iowa, was 1.5 pounds below weight for a 184-pounder, although he knew with junior Cash Wilcke entrenched in the lineup, chances were slim he would face Purdue sophomore Max Lyon.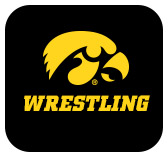 Bowman's inkling was once again correct, with a heftier twist.
 
"When I was in the tunnel after (pre-meet) introductions," Bowman said of when he was informed by Iowa head coach Tom Brands that he would be competing.
 
But not at 184 pounds.
 
"They made the call that I was wrestling (at 197 pounds) instead of (redshirt freshman Jacob) Warner," Bowman said.
 
The opponent would be Purdue junior Christian Brunner, a two-time NCAA qualifier who is currently ranked No. 11 in the country.
 
"It was a little short notice, but if you assume you're wrestling the whole time, it doesn't matter," Bowman said.
 
Bumping up to compete when you are out-weighed by 15 pounds could be problematic to some. Bowman passed the test.
 
He scored a second takedown with two seconds left in the first period and went on to win, 7-5, in the opening bout of the dual. The Hawkeyes, competing without five starters, prevailed, 26-9.
 
"It is the way I was raised, you do what the head coach asks of you because I believe in Tom," said Bowman, who is 2-0 on the season. "I think he has my best interests in mind the entire time.
 
"Right now I am in support and that's my role; I don't like the role, but that's the role I'm in right now, so if he asks me to go 97, I will go 97. If he says wrestle heavyweight, I'll wrestle heavyweight. It doesn't matter because he is doing what's best for the team and what is best for me."
 
Competing at 197 is not new to Bowman. In his only other match this season on Nov. 9, he competed at 197 and defeated Mark Penyacsek of California State-Bakersfield, 6-2.
 
When it comes to Hawkeye wrestling, trust is a two-way street between student-athlete and coach.
 
"He trusts me, but Mitch Bowman made the call and I trust him," Brands said. "We're not going to gamble or roll the dice. Bowman was nicked up after that Cal State dual, so we trust him to get back in shape and rehab. That's toughness. He weighed 182 ½ pounds and went out and wrestled a 97-pounder that is (11th) ranked in the country and beat him."
 
Bowman wasn't the only Hawkeye to experience a successful move up in weight. Sophomore Carter Happel, who entered the dual 3-2 at 141 pounds, defeated Purdue's Parker Filius, 2-0, at 149 pounds. Happel's points came on an escape and riding time.
 
"Right away I got in and felt his hips and it's a little different than a 41 pounder," Happel said. "I had to think about that during the match and remember I was wrestling a 49 pounder. I couldn't just bull rush him or anything like that. He is a bigger, stronger kid than me, but I knew I could get out from bottom and ride him and that's what I did."
 
Happel's win was the third in a row for Iowa and extended its lead to 12-6. Hawkeyes Kaleb Young (fall at 157) and Alex Marinelli (14-3 major decision at 165) put the result out of Purdue's reach.
 
Before Young's fall — his second of the season — Iowa had won matches by two, three, five, and two points.
 
"When I was running off the mat (associate head coach) Terry (Brands) said, 'We needed that,'" Young said. "I knew if I went out and wrestled my style, just loose and let things go, that I would be able to get bonus points. It felt good to make it happen and get things rolling more our way."
 
The Big Ten opening lineup for the Hawkeyes was lacking sophomore Spencer Lee (125), junior Pat Lugo (149), junior Michael Kemerer (174), Warner (197), and senior Sam Stoll (285).
 
"You never know what's going on in that wrestling room and we're going to rely on these guys for the near term," Brands said. "That is the lineup you're going to see and we have to be making hay with that lineup."
 
Iowa remains home for nonconference duals against Iowa State (Dec. 1) and Lehigh (Dec. 8).