24 Hawkeyes to Watch 2018-19 | Hawk Talk Monthly — November | Hawkeye Fan Shop — A Black & Gold Store | I-Club Events Page | Hawk Talk Daily | Iowa Corn Cy-Hawk Series | Photo Gallery
IOWA CITY, Iowa – The third-ranked University of Iowa wrestling team defeated Iowa State, 19-18, on Saturday in the Iowa Corn Cy-Hawk Series.
 
It was the first time in 83 meetings the dual was decided by a single point, but that one point favored the Hawkeyes, who won their 15th straight against the Cyclones.
 
"I think a lot of coaches get out of the frying pan and just move on," said Iowa head coach Tom Brands. "But I can tell you there is no feeling of relief up here. We need to shape up and move forward in a lot more ways than just one."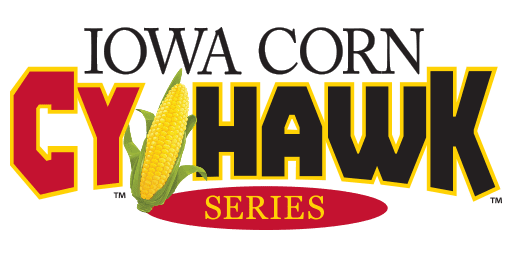 The teams split 10 matches. The Cyclones won by decision at 133, 141, 149, and 184. They won by injury default at 174. The Hawkeyes won by decision at 157, 197, and 285. Spencer Lee's major decision at 125 and Alex Marinelli's fall at 165 were the difference in the dual.
 
"Every single dual meet I try to get bonus points for my team, whether it's a major, a tech, or a pin," Marinelli said. "I knew this dual meet would be electric and that I had to have bonus points. Every week I try to pin my guy and last week it didn't happen. This week it did and I'm pretty pumped about it."
 
Marinelli's fall gave Iowa its first lead, 9-6, but Iowa State answered with six team points when Myles Wilson was forced to injury default to Marcus Wilson at 174 before the start of the second period. Wilson led 4-3 before bowing out.
 
The Cyclones led 12-9 at intermission and extended their lead to 15-9 when Sam Colbray scored a takedown with five seconds left on the clock to top Cash Wilcke, 7-6.
Iowa responded with three straight wins, the first from Jacob Warner at 197. Warner opened his collegiate career with a 5-4 win against fifth-ranked Willie Miklus, reversing Miklus with five seconds left in the match.
 
"I thought I wrestled alright," Warner said. "I think there is more I could have done at the end of the match. At the end of the day I got it done. It was a little too close for comfort, but I'll watch some film and move forward."
 
Sam Stoll, who was option B (at best) before the dual started, made his season debut and tied the team score, 15-15, with a 5-1 win at 285.
 
"I had no intentions on going, but it's hard (not too) when we are losing a big dual like that," Stoll said. "I ran out there and Tom met me in the middle. He said, 'I don't want this, you're not going." I told him it was my last 'State Week' and he gave me a good slap in the face and I went."
 
Lee followed Stoll and gave the Hawkeyes a lead for good, returning from a one-week absence to win by 13-4 major decision at 125.
 
The Cyclones closed the dual with a decision at 133. No. 14 Austin Gomez defeated No. 10 Austin DeSanto, 14-9.
 
"We have to be better in the third period," Brands said. "We're moving forward and have another one coming to town. Lehigh is going to see this and chomp at the bit. We have to regather and I have to make sure we are communicating with these guys. There is a lot of communication that needs to happen with several people."
 
NOTEABLES
Iowa extended its winning streak against Iowa State to 15 duals.
Tom Brands improved to 14-0 all-time against Iowa State.
Iowa retained the Dan Gable Traveling Trophy. The Hawkeyes have won the trophy every year since its inception in 2010.
It was the closest score in the series since Iowa won 18-16 on Dec. 6, 2009
Iowa leads the 2018-19 Iowa Corn Cy-Hawk Series, 7-6 (wins in volleyball, football, wrestling. Losses in soccer, and men's and women's cross country).
Marinelli improved to 5-0 with three pins.
Jacob Warner made his collegiate debut.
Sam Stoll made his season debut.
 
UP NEXT
The Hawkeyes host Lehigh on Saturday, Dec. 8, at 7:30 p.m. (CT) at Carver-Hawkeye Arena. Tickets are available at hawkeyesports.com/tickets.
 
#3 IOWA 19, IOWA STATE 18
141 — Ian Parker (ISU) dec. #14 Max Murin (IA), 5-4; 0-3
149 — #12 Jarrett Degen (ISU) dec. #11 Pat Lugo (IA), 7-4 TB1; 0-6
157 — #13 Kaleb Young (IA) dec. Chase Straw (ISU), 8-3; 3-6
165 — #4 Alex Marinelli (IA) pinned Brady Jennings (ISU), 4:45; 9-6
174 — #21 Marcus Coleman (ISU) injury default Myles Wilson (IA); 9-12
184 — Sam Colbray (ISU) dec. #12 Cash Wilcke (IA), 7-6; 9-15
197 — #11 Jacob Warner (IA) dec. #5 Willie Miklus (ISU), 5-4; 12-15
285 — #1 Sam Stoll (IA) dec. Gannon Gremmel (ISU), 5-1; 15-15
125 — #1 Spencer Lee (IA) major dec. Alex Mackall (ISU), 13-4; 19-15
133 — #14 Austin Gomez (ISU) dec. #11 Austin DeSanto (IA), 14-9; 19-18
Records: Iowa (5-0), Iowa State (1-1)
Attendance: 9,751