Hawk Talk Monthly — November | Hawkeye Fan Shop — A Black & Gold Store | I-Club Events Page | 24 Hawkeyes to Watch 2018-19 | Hawk Talk Daily | Iowa State Recap (With Photos & Video)
By DARREN MILLER
hawkeyesports.com
IOWA CITY, Iowa — New month, new lineup, similar result.
The University of Iowa wrestling team opened December with redshirt freshman Jacob Warner on the mat for the first time this season. His 5-4 decision over fifth-ranked Willie Miklus of Iowa State at 197 pounds helped the No. 3 Hawkeyes (5-0) to a 19-18 victory in the Iowa Corn Cy-Hawk Series.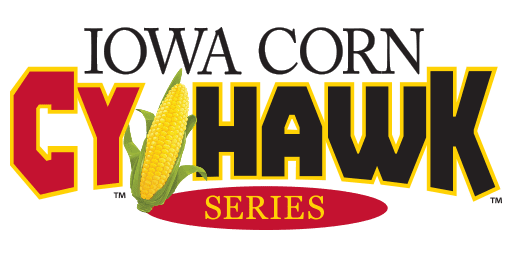 It is Iowa's 15th consecutive win in the series. Iowa State is 1-1. 
There could have been an easier debut for Warner, who used a late reversal to defeat Miklus, a three-time All-American who is a graduate transfer from Missouri. Miklus has 86 career victories, Warner now has one.
Even then, competing in front of 9,751 in Carver-Hawkeye Arena on Saturday was not too much for Warner to handle. 
"I have been on big stages my whole life, so I didn't want to psych myself out," Warner said. 
The native of Tolono, Illinois, competed unattached last season, finishing 15-4. He was a Junior World Team member at 92 kilograms for the UWW Junior World Championships in Trnava, Slovakia, in September. Because of that schedule, he did not suit up for the first five duals for the Hawkeyes, although he did wrestle-off Nov. 2. 
"I was warming up by the bench and (assistant coach Bobby) Telford came over to me and said, 'Welcome home,'" Warner said. "He grabbed me and said, 'Look at all these fans. These are all for you.' I felt at home. I felt no pressure and was able to wrestle my match."
Warner earned a takedown 31 seconds into the bout, but somehow tweaked a part of his lower body and limped through the final six minutes.
"This is what I train for," Warner said. "I train when I'm sick, I train when I'm hurt, I train when I feel my best, and like (associate head coach) Terry (Brands) always says, 'When it's your time, you're ready to go.' I was ready to go today, so injury, no injury, I'm fine and ready to go."
Miklus has history of pulling out close victories in Carver-Hawkeye Arena. He defeated Iowa's Alex Meyer (a high school teammate at Southeast Polk High School in Runnells, Iowa), 6-5, on Feb. 22, 2015, in the EAS/NWCA National Duals when he was with Missouri. The Tigers handed Iowa its only loss of the season that evening, 18-12. 
Miklus scored three points in the final 47 seconds against Meyer four years ago, but didn't have similar good fortune against Warner.
With Warner leading, 3-1, Miklus escaped three seconds into the final period, then took a 4-3 lead with a takedown with 51 seconds remaining. Warner scored a reversal with five seconds to go and won, 5-4. 
"(Miklus) had a leg in, locked up a cradle, and I thought to myself, I have to do something," Warner said of the final 10 seconds. "I found myself on top, then he rolled again, found myself on my back, and I remember thinking, keep my left arm straight, because I had his legs turned. If I would have dropped my left arm he would have got a reversal for sure. It was intense for me, but I came out of it."
For the Hawkeyes, it snapped a string of two straight losses in the dual and was the start of three wins in a row. Sam Stoll followed with a 5-1 decision at 285 and Spencer Lee won by 13-4 major decision at 125. 
"(Warner) reeled it in emotionally when things were going against him," Iowa head coach Tom Brands said. "Certain things were going against him physically, injury-wise, whatever, everybody saw it. They looked at (the reversal) on film, the call went our way, and we go forward."
In the 83-match history of the Iowa-Iowa State series, this is the first dual decided by one point.
That makes Warner's heroics over the final five seconds more monumental.