24 Hawkeyes to Watch 2018-19 | Hawkeye Fan Shop — A Black & Gold Store | Hawk Talk Daily | Pop, Slap, Victory | I-Club Events Page
CEDAR FALLS, Iowa — Freshmen Nelson Brands and Tony Cassioppi won tournament titles at UNI Open on Saturday.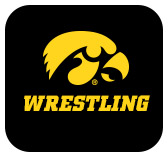 Cassioppi recorded three pins in a total of three minutes, 10 seconds to win the 285-pound title. He improved to 11-0 this season with 10 falls and three tournament championships.
 
Brands won five matches to win the 165-pound championship, his third tournament title this season. He improved to 13-0.
 
Vince Turk and Jeren Glosser placed second and third, respectively. Turk won twice by major decision before falling, 4-0, in the 141-pound championships match. Glosser was 4-1 with three major decisions at 149.
UNI OPEN RESULTS
 
Vince Turk – 2nd place 141
Champ. Round 1 – Vince Turk (IOWA) received a bye () (Bye)
Quarterfinal – Vince Turk (IOWA) won by decision over Clay Carlson (South Dakota St.) (Dec 8-5)
Semifinal – Vince Turk (IOWA) won by major decision over Michael Blockhus (Northern Iowa) (Maj 14-0)
1st Place Match – Josh Alber (Northern Iowa) won by decision over Vince Turk (IOWA) (Dec 4-0)
 
Justin Stickley 141
Champ. Round 1 – Justin Stickley (IOWA) won by fall over Richardson Gbeynie (Iowa Central CC) (Fall 0:59)
Quarterfinal – Michael Blockhus (Northern Iowa) won by decision over Justin Stickley (IOWA) (Dec 6-3)
Cons. Round 2 – Justin Stickley (IOWA) won by major decision over Zach Price (South Dakota St.) (Maj 12-3)
Cons. Round 3 – Clay Carlson (South Dakota St.) won by decision over Justin Stickley (IOWA) (Dec 12-10)
 
Zach Axmear 149
Champ. Round 1 – Zach Axmear (IOWA) won by decision over Grant Stotts (Iowa State Unattached) (Dec 5-0)
Champ. Round 2 – Graham Rooks (Indiana University Unattached) won by decision over Zach Axmear (IOWA) (Dec 6-4)
Cons. Round 2 – Zach Axmear (IOWA) won by fall over Yarhoski Aldiva (Iowa Central CC) (Fall 3:43)
Cons. Round 3 – Zach Axmear (IOWA) won by major decision over Tyler Waterson (Minnesota) (Maj 15-5)
Cons. Round 4 – Drew Scharenbrock (Wisconsin Unattached) won by decision over Zach Axmear (IOWA) (Dec 10-8)
 
Jaren Glosser – 3rd place 1 157
Champ. Round 2 – Jaren Glosser (IOWA) won by decision over Chase Straw (Iowa State Wrestling) (Dec 13-9)
Quarterfinal – Jaren Glosser (IOWA) won by major decision over Jared Franek (North Dakota State) (Maj 14-3)
Semifinal – Devin Bahr (Wisconsin Unattached) won by decision over Jaren Glosser (IOWA) (Dec 3-2)
Cons. Semi – Jaren Glosser (IOWA) won by major decision over Cayd Lara (Northern Iowa) (Maj 11-2)
3rd Place Match – Jaren Glosser (IOWA) won by decision over Chase Straw (Iowa State Wrestling) (Dec 5-4)
 
Joe Kelly 157
Champ. Round 2 – Joe Kelly (IOWA) won by decision over Laken Cook (South Dakota St.) (Dec 7-4)
Quarterfinal – Brayton Lee (Minnesota) won by major decision over Joe Kelly (IOWA) (Maj 12-3)
Cons. Round 4 – Ethan Karsten (Iowa Central CC) won by decision over Joe Kelly (IOWA) (Dec 7-2)
Open 165
 
Nelson Brands – 1st place 165
Champ. Round 1 – Nelson Brands (IOWA) won by fall over Jonathan Carr (Iowa Central CC) (Fall 2:12)
Champ. Round 2 – Nelson Brands (IOWA) won by major decision over Tate Battani (Iowa State Unattached) (Maj 13-5)
Quarterfinal – Nelson Brands (IOWA) won by major decision over Skyler St. John (Iowa State Wrestling) (Maj 12-3)
Semifinal – Nelson Brands (IOWA) won by medical forfeit over Brady Jennings (Iowa State Unattached) (MFF)
1st Place Match – Nelson Brands (IOWA) won in double overtime over Jake Allar (Minnesota) (2-OT 3-2)
Open 165
 
Tristan McDonald
Champ. Round 2 – Austin Brenner (North Dakota State) won by major decision over Tristan McDonald (IOWA) (Maj 9-1)
Cons. Round 2 – Tristan McDonald (IOWA) won by decision over Zachary Schneider (North Dakota State) (Dec 3-2)
Cons. Round 3 – Tim McCarthy (Illinois) won by decision over Tristan McDonald (IOWA) (Dec 5-0)
Open 285
 
Tony Cassioppi – 1st place
Quarterfinal – Tony Cassioppi (IOWA) won by fall over Blake Wolters (South Dakota St.) (Fall 0:35)
Semifinal – Tony Cassioppi (IOWA) won by fall over Thomas Helton (SIUE) (Fall 1:52)
1st Place Match – Tony Cassioppi (IOWA) won by fall over Daniel Stibral (North Dakota State) (Fall 0:43)