Hawkeye Fan Shop — A Black & Gold Store | 24 Hawkeyes to Watch | Hawk Talk Monthly — November | Hawk Talk Daily
By RICK BROWN
hawkeyesports.com
 
IOWA CITY, Iowa — There were times when Tyler Cook broke the speed limit last season.
 
The University of Iowa junior forward would play faster than he needed to, leading to turnovers, missed shots, and lost opportunities. But it has been a much different Cook behind the wheel this season.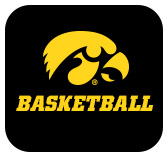 "He is playing at a great pace," said Iowa head men's basketball coach Fran McCaffery. "Last year he would get revved up, go too fast, and turn it over a few times. He's not making those mistakes now."
 
Whether it's taking the ball coast-to-coast on the dribble, setting up teammates with a pass in transition, or passing out of double teams, Cook's game has a flow to it that was missing last season.
 
"He doesn't panic in the double team at all," McCaffery said. "He makes good moves and makes good decisions. His teammates love playing with him and we can run the offense through him."
 
Cook scored 17 points on just seven field-goal attempts in Saturday's 77-54 victory over Northern Iowa at The Hy-Vee Classic. He also had 13 rebounds and five assists. It was his third double-double in the last four games.
 
"Cook is playing about as well as anybody in the country," Northern Iowa head coach Ben Jacobson said. "There can't be but a handful of guys doing all that he does for their team."
 
Cook's improved play started during the offseason, after he entered the NBA Draft before deciding to return to college for his junior season. In his workouts for NBA teams, he learned about the flaws he had in his game. He took that second opinion to heart and he listened to his Iowa coaches during summer workouts.
 
"I paid a lot more attention to the smaller details and areas of the game where I can have success," Cook said. "When it comes to the games, I'm a lot more comfortable and I already know how to pick my spots and be effective in a game."
 
Handling double-team defenses is one obvious area of improvement. Northern Iowa double-teamed Cook immediately, and did it in a way he wasn't prepared for. Instead of bringing that double team off a passer, the Panthers brought it from the opposite post. Cook handled that new wrinkle effectively.
 
"I knew they were going to double," Cook said. "I was just looking for guys. Somebody's open. When you know it's coming, there's really no surprise to it."
 
Cook's defense has improved this season, too. Saturday's game was a collective team effort, all five players working as one on defense.  Iowa is now 68-2 in McCaffery's nine seasons as coach when holding opponents under 61 points.
 
"Honestly, that's the biggest difference (from last season), and it's feeding into the rest of our game," Cook said. "It gives us a ton of confidence on the offensive end."
 
Another thing Cook heard during his NBA experience was the need to develop an effective mid-range jump shot. He hasn't had the results he hoped for there, though he did stick the only jumper he attempted on Saturday.
 
"I haven't shot the ball that great at all to this point," Cook said. "But I'm going to keep shooting when I'm open. I'm confident in myself and I work on it every day."
 
Cook became the 47th player in Iowa basketball history to reach 1,000 career points on Saturday.  He has done that in basically two seasons of work. He missed seven games his freshman season with a finger injury, and he's just 10 games into his junior season.
 
Cook has scored in double figures in 52 of his 70 games in a Hawkeye uniform, including 13 games of 20 points or more. He is averaging 14.3 points a game for his career and 16.6 points this season, along with 8.9 rebounds.
 
"I'm blessed to be able to reach that milestone, and I couldn't do it myself," Cook said. "My coaches and teammates help set me up. They deserve all the credit. All I do is put the ball in the hole. That's the easy part."
 
The Hawkeyes return to action Tuesday, hosting Western Carolina at 8 p.m. (CT) on Mediacom Court inside Carver-Hawkeye Arena. 
 
Tickets are available at hawkeyesports.com/tickets, ranging from $5 to $15.  It's also a family four-pack game with four tickets, four drinks, and four hot dogs for $55 dollars (only available online and must be purchased 24 hours in advance).