Hawkeye Fan Shop — A Black & Gold Store | Hawk Talk Monthly — December | 24 Hawkeyes to Watch 2018-19 | Hawk Talk Daily | I-Club Events Page
By CHRIS BREWER
hawkeyesports.com
IOWA CITY, Iowa — Mitch Bowman confirmed this week what many had already suspected; the senior from Donahue, Iowa, is cutting to 174 pounds and expects to be on the mat Dec. 29 when the Hawkeyes open the Midlands Championships at Hoffman Estates, Illinois.
 
"It's not what I expected this season, but it is what it is now so you keep moving forward," Bowman told reporters Monday inside the Dan Gable Wrestling Complex. "Wrestlers are good at facing adversity and there is a little bit of adversity. But there is really no change in the goal. The goal is still an NCAA title at the end of the year. It doesn't matter what the weight is. This is just another opportunity that you have to make the most of right now."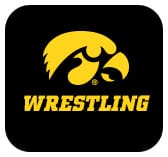 A natural 184-pounder, Bowman was an NCAA qualifier at the weight last season, putting up a 2-2 record at the national tournament. But offseason changes to the Iowa lineup meant Bowman would need to enter his senior season with an open mind. Cash Wilcke, a two-time NCAA qualifier, is ranked No. 14 at 184. Thirteen pounds later, Jacob Warner is ranked No. 4 at 197.
 
Bowman has stepped in at 197 while Warner worked his way into the Iowa lineup. In his only two appearances this year, Bowman is 2-0 at 197. He opened the season with a 6-2 decision against Mark Penyacsek of Cal State Bakersfield. Two weeks later, he took out No. 11 Christian Brunner of Purdue, 7-5.
 
But Warner is expected to cement his name into the starting position at 197 at Midlands, so when head coach Tom Brands announced in November that two-time All-American and 174-pounder Michael Kemerer would miss the season due to injury, Bowman reversed course.
"One thing didn't work out. This opportunity presented itself, so this is what it takes (to contribute) and this is what is going to make our team its best right now," Bowman said. "We're trying to make the best team possible to make a deep run into the postseason."
 
Bowman is certified at both 174 and 184. With his win over Brunner, he proved he can compete against the top 197-pounders in the country. Two years ago, he bumped up to heavyweight and recorded a fall at Carver-Hawkeye Arena. His versatility has never been a question.
 
"We're expecting Bowman to be Bowman at his best," Brands said. "We love Bowman. Bowman is a journeyman. He'll do whatever we ask. If there wasn't room on the bus, he would take off walking for (Midlands) right now. He'll do whatever you ask."
 
Bowman won't have to walk to Sears Centre Arena. Three years ago, the last time he wrestled at 174 as a backup to Alex Meyer, the exercise may have been necessary. But he says he is smarter now.
 
"Stricter with the diet, that is the biggest thing," Bowman said. "We always work out hard and you can always lose a ton of weight, but your diet has to become even more solid throughout the process because you have to feel good. You can't just not eat or dehydrate yourself because it is going to hurt you in the long run.
 
"I'm going to be strong."
 
Iowa has won the last five Midlands Championships and 27 team titles in the 55-year history of the event. The 56th annual Midlands Championships begins Saturday, Dec. 29, at 9:30 a.m. (CT). The fourth and final round begins Sunday, Dec. 30, at 7 p.m.