Hawkeye Fan Shop — A Black & Gold Store | Hawk Talk Monthly — December | 24 Hawkeyes to Watch 2018-19 | I-Club Events Page | Hawk Talk Daily
By JAMES ALLAN
hawkeyesports.com
IOWA CITY, Iowa — Freshman heavyweight Tony Cassioppi is in the midst of a redshirt season with the University of Iowa wrestling team and he is turning heads inside the Dan Gable Wrestling Complex.
 
Cassioppi has competed in three tournaments, winning titles at the Grand View, Lindenwood, and UNI opens.  In 11 matches, the Roscoe, Illinois, native has 11 bonus-point wins. He has gone beyond the first period just twice.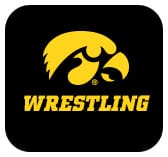 "He's an animal," said sophomore Spencer Lee. "He has had 10 pins out of 11 matches, so he's ready to go with the big dogs. It's going to be fun to watch."
 
Cassioppi will take the mat for his biggest test of the season Dec. 29-30 when he competes unattached at the Midlands Championships at Sears Centre Arena in Hoffman Estates, Illinois. 
 
He will be one of three Hawkeyes in the heavyweight bracket along with top-ranked Sam Stoll and redshirt freshman Aaron Costello (unattached).  The field will also include Maryland's fourth-ranked Youssif Hermida, Wisconsin's eighth-ranked Trent Hillger, Buffalo's 12th-ranked Jake Gunning, and Central Michigan's 19th-ranked Matt Stencel.
 
"It's going to be the biggest tournament I have had yet," said Cassioppi. "I am excited to go out and see what I can do.  I will wrestle my hardest and hopefully win the tournament."
 
That's the mindset Iowa head coach Tom Brands likes to see up-and-down the Hawkeyes' lineup — redshirt or no redshirt.
 
"The good thing about the Midlands competition is they have to get ready to go at another level," said Brands.  "This is important to us. This isn't something where you throw your hat in the ring and see how it goes. 
 
"These guys are as serious as our No. 1 guys. That is the philosophy as a redshirt. When you are redshirting, you don't act like you're redshirting. This is about young guys competing at a higher level and proving yourself again."
 
Cassioppi is looking forward to returning to his home state and finally getting a chance to take the mat at Midlands. He attempted get into the field last December during his senior season at Hononegah High School, but was turned away.
 
"I contacted who I knew and they said they weren't allowing high school athletes in last year," said Cassioppi, who won his final 100 high school matches. "I thought I would have a chance to get in. 
 
"I practiced with Stephen Dwyer because he was from my high school; he was a two-time All-American at Nebraska.  A few years ago (in 2013) he entered Midlands unattached and took fourth. He lost to (Iowa's Bobby) Telford in the first round. He had a couple of connections, but he said they weren't letting high school athletes in."
 
Telford, now an Iowa assistant coach, has been one of Cassioppi's biggest influences as a training partner in his first season in Iowa City. 
 
"I don't know many wrestlers better than Telford," said Cassioppi. "I know if I am competing against him in the room and wrestling (Stoll and Costello), I am confident in the work I am putting in so I can be confident on the mat."
 
The Hawkeyes have won the last five Midlands Championships and 27 team titles in the 55-year history of the event.  Saturday's action begins at 9:30 a.m. (CT), while the fourth and final round begins Sunday at 7 p.m.