Hawkeye Fan Shop — A Black & Gold Store | Hawk Talk Monthly — January | Fight For Iowa
By ROB McCOLAUGH
hawkeyesports.com
IOWA CITY, Iowa — The University of Iowa women's tennis program toes the water this weekend with a three-day tournament at Southern Methodist before officially opening its 2019 spring championship season Friday, Jan. 18, hosting Xavier at the Hawkeye Tennis and Recreation Complex.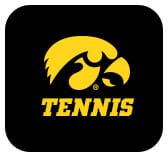 The graduation of last year's seniors — Zoe Douglas, Montana Crawford, and Anastasia Reichmen — has forced a team that includes five newcomer into a phase of introductions and first impressions. 
 
"It has been great to see the team come together," said Iowa head coach Sasha Schmid. "It is rare in our sport to add five new players in one year, and I could not be more pleased with the team camaraderie and overall culture formed this fall. I was especially proud of the team's competitive spirit and grit in competition situations." 
 
The number of tournaments during the fall season was limited to a select two by Schmid. It was a purposeful move that allowed the rookies time to adjust to their new homes and be fully evaluated by the coaching staff. 
In the two tournaments Iowa played, each newcomer showed they were comfortable on their new stage. Freshman Michelle Bacalla posted a 4-2 singles record and placed in the Top 32 at the ITA Central Regional Championships. Classmates Samantha Mannix and Sophie Clark both advanced to the Round of 16 at the ITA Central Regionals. Mannix added a runner-up finish in Flight 1 of singles at the Rebel Women's Tennis Invite.
Sophomore transfer Asheligh Jacobs also played well, posting a 4-2 singles record and a Flight 5 singles consolation championship at the Rebel Women's Tennis Invite. 
The progress displayed by so many different roster spots points to a healthy internal competition. That is great news for Schmid, considering so many different faces on Iowa's roster are approaching their first spring championship season. 
 
"We have depth and parity on this roster and those two factors will strengthen our team greatly," Schmid said. "I put a lot of value into how each individual competes in match situations, and our first six or seven times out will prove invaluable when setting a lineup best suited for the Big Ten season."
 
Schmid will lean on two-time All-Big Ten performer Elise van Heuvelen Treadwell to set the example. The junior missed most of the fall season recovering from wrist surgery. In her lone appearance, she posted a 2-1 singles record at the Rebel Tennis Women's Invitational.
"In the few weeks when Elise was healthy, she pushed the team and they pushed back by challenging her at practice," Schmid said. "It was a terrific dynamic that I'm excited to get back to next week when our spring practices begin." 
 
Before Iowa's regular season opener against Xavier, van Heuvelen Treadwell will join teammates Danielle Bauers, Cloe Ruette, and Daniel Burich at the Metroplex Mania at Southern Methodist University from Jan. 11-13. 
 
"SMU is great opportunity for more match play," Schmid said. "It fits nicely into our schedule and helps us get more match play situations under our belt."