Hawkeye Fan Shop — A Black & Gold Store | Hawk Talk Monthly — January | Fight For Iowa
DALLAS, Texas— The University of Iowa women's tennis team went 3-3 Friday at Metroplex Mania on the campus of Southern Methodist University in Dallas, Texas.
Each of the three Hawkeyes picking up singles wins did so against a BYU counterpart on Day 1 at Metroplex Mania.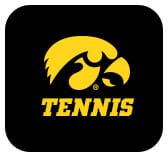 Elise van Heuvelen Treadwell captured a win in her first round singles match defeating Anastasia Abramayan, 6-7 (5), 6-3, 6-3. Heuvelen Treadwell was joined by sophomore teammate, Danielle Bauers, in the winner's circle with a come from behind victory against Morgan Hall, 0-6, 6-1, 6-2. Cloe Ruette claimed a third singles win for the Hawkeyes, defeating Katie Fitt in straight sets, 6-1, 6-3. Danielle Burich was defeated by Katherine Jakeway of Southern Methodist University, 6-2, 6-2.
The doubles team of Elise van Heuvelen Treadwell and Cloe Ruette were defeated by Ana Perez- Lopez and Vivienne Kulicke of Southern Methodist University, 6-2, in flight one of the doubles tournament. Later in the day, the sophomore duo of Danielle Burich and Danielle Bauers fell short to a different Southern Methodist University pairing, Katherine Jakeway and Nicole Petcheyin, 6-2.
"I thought we competed well in singles and I was happy to see us come back from a set down on a couple of courts. We can do a better job executing in doubles and we're looking forward to get back out there tomorrow," said Iowa assistant coach Daniel Leitner.
Iowa returns to the court tomorrow. Action is tentatively scheduled for 9 a.m.
DAY 1 RESULTS:
Singles:
Liza Buss (SMU) defeated #75 Chiara Tomasetti (NAU): 6-2, 6-4
Vivi Kulicke (SMU) defeated Elinor Millard (NAU): 6-1, 6-3
Ana Perez Lopez (SMU) defeated Cora-Lynn von Dungern (NAU): 6-1, 6-0
Anzhelika Shapovalova (SMU) defeated Madison Moore (NAU): 6-0, 6-1
Emilie Haakansson (NAU) deferated Karina Traxler (SMU): 2-6, 7-5, 7-4
Nicole Petchey (SMU) defeated Eirene Granville (NAU): 6-3, 6-2
Kat Jakeway (SMU) defeated Danielle Burich (Iowa) :6-2, 6-2
Van Heuvelen Treadwell (Iowa) defeated Anastasia Abramyan (BYU): 6-7 (5), 6-3, 6-3
Rhea Verma (NSU) defeated Polina Malykh (SMU): 7-5, 6-2
Samantha Smith (SMU) defeated Patricia Polanska (NSU): 1-6, 7-5, 7-5
Madeline Almeida (BYU) defeated Antonia Blattner (NSU): 6-3, 6-1
Ela Iwaniuk (NSU) defeated Taylah Beckman (BYU): 7-5, 2-6, 6-3                 
Cloe Ruette (Iowa) defeated Katie Fitt (BYU): 6-1, 6-3                      
Danielle Bauers (Iowa) defeated Morgan Hall (BYU): 0-6, 6-1, 6-2                
Doubles:
Kulicke/Perez-Lopez (SMU) defeated van Heuvelen/ Ruette (Iowa): 6-2
Shapovalova/Buss (SMU) defated Verma/Polanska (NSU): 6-2
Traxler/Hollebeck (SMU) defatead Blattner/Iwaniuk (NSU): 6-2
Jakeway/Petchey (SMU) defeated Bauers/Burich (Iowa): 6-2
Tomasetti/Millard (NAU) defeated Abramyan/ Cusic (BYU): 6-3
Von Dungern/ Hakansson (NAU) defeated Smith/Beckman (BYU): 6-3
Malykh/ Almeida (BYU) defeated Granville/Moore (NAU): 6-2