Hawkeye Fan Shop — A Black & Gold Store | Hawk Talk Monthly — January | 24 Hawkeyes to Watch 2018-19 | I-Club Events Page
By CHRIS BREWER
hawkeyesports.com
IOWA CITY, Iowa — Responding from a loss can be difficult, especially when there is not another match in front of you.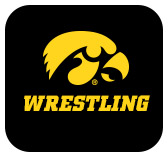 That was the dilemma for Jacob Warner a year ago. Competing unattached, he saw his freshman season end in redshirt following three straight losses at the 2017 Midlands Championships.
 
He finished the tournament 3-3, placing sixth at 197 pounds. He was 15-4 overall in four tournament appearances. His season was complete. It was not what he wanted.  
 
One year later at the Midlands Championships, Warner placed fifth at 197. He was 5-2 overall. He lost his final match. Not what he wanted, but not the end. Warner is now in Iowa's lineup. He is ranked sixth nationally at 197 pounds and on Sunday at Minnesota, he is back on the mat making his Big Ten debut.  
 
"I'm excited to get back on the mat and wrestle," Warner said. "Minnesota is a good team. I'm excited for whoever they throw out there against me. I'll be ready to go."
Warner eased his way into the Iowa lineup this season. He competed overseas at the Junior World Championships in September, representing Team USA at 92 kg (202 pounds). Fans expected to see Warner in the lineup in early November, but he strategically put his health in order, making his Hawkeye debut Dec. 1, a 5-4 win over No. 5 Willie Miklus of Iowa State.   
 
"There was always a process and I just stick to the plan that (Iowa head coach) Tom and (Iowa associate head coach) Terry lay out for me," Warner said. "They know what's best for me. I had kind of a delayed Hawkeye debut, made it, went to Midlands, and now the next match is Minnesota. I'm sticking to that plan and making sure I'm getting better every day. Making sure my mind is staying healthy and my body is staying healthy. I'm ready to go."
 
A year ago, Warner may not have been ready to go after the tournament he had a Midlands. But this year, he said he has matured and learned to move forward from a loss.  
 
"The differences between my mentality after my losses last year at Midlands and this year are a lot different," Warner said. "Last year I was down on myself. I'm very critical of myself. But this year I felt like I was more mature. Focusing on what I can do better that next match. That is the biggest thing. I'm becoming stronger mentally and more mature to where I know what I need to get done. I'm not going to dwell on the past. I'm going to keep moving forward."
 
Again, 12 months ago that was not an option. Warner was in redshirt, and he would stay there. There was no "next match." This year, he is entering the teeth of Iowa's schedule. Iowa's dual at Minnesota is the first of four matches in a 15-day stretch. After that, five duals in February. And after that, March brings the Big Ten and NCAA Championships.
 
"The more into the season we get, the more interesting it gets, the more exciting it gets," Warner said. "I'm excited for it and I'm ready for it. I've been doing this since I was 6-years-old. Getting ready for the postseason. We're in the meat grinder now. The last two and a half months. I'm ready to go and I'm excited."
 
Iowa and Minnesota meet Sunday at noon. The dual is televised by BTN.