Hawkeye Fan Shop — A Black & Gold Store | Hawk Talk Monthly — January | 24 Hawkeyes to Watch
By RICK BROWN
hawkeyesports.com
IOWA CITY, Iowa — Jordan Bohannon watched his three older brothers play a lot of basketball games growing up.
 
He saw Jason, a guard at Wisconsin, go against Steph Curry and Davidson in an NCAA Sweet 16 game in 2008. He was at A T&T Stadium in Arlington, Texas, when Zach's Wisconsin team went to the 2014 Final Four.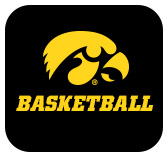 And he saw Matt and his Northern Iowa teammates finish a 31-4 season at an NCAA Regional in Seattle in 2015.
 
"Now it has gone full circle," Jordan said. "From me watching them to the other way around."
 
Jason, Zach, and Matt were all on hand Saturday at Carver-Hawkeye Arena, when Jordan scored his 1,000th career point during Iowa's 72-62 victory against No. 16 Ohio State.
 
"Anything we do, we do it as a family," said Jordan, a junior who has been following some big footsteps since he started to dribble a basketball.
 
Jason scored 1,170 points at Wisconsin from 2006-10. Matt scored 1,092 points at Northern Iowa from 2012-16.
 
The Bohannons are believed to be the fifth brother trio to reach 1,000 points at the NCAA Division I level.
 
Leading the pack are the four Barry brothers (Jon, Georgia Tech; Brent, Oregon State; Drew, Georgia Tech; and Canyon, College of Charleston/Florida). The Koch brothers — Adam, Jake, and Bennett — all did it at Northern Iowa. There were also the Tripucka brothers (Tracy, Lafayette; Todd, Lafayette; Kelly, Notre Dame) and the Tallent brothers (Bob, Kentucky/George Washington; Mike, George Washington); and Pat, George Washington).
 
On Saturday, the youngest of Gordy and Brenda Bohannon's four sons added their family name to a short list.
 
"It's pretty neat to see him do what he's doing on the basketball court," Jason said. "We beat him up quite a bit when he was younger. It was kind of expected on our end, because we always thought high things of him."
 
Reaching 1,000 career points is not an easy task. Jordan is just the 48th player in Iowa history to get there. Classmate Tyler Cook got there earlier this season.
 
"You have to be ready to play every single game," Jason said. "Every game is a battle and you have to be ready for the physicality, especially come Big Ten play. Sometimes you're not entirely healthy, but you're out there playing anyway."
 
Matt calls little brother's accomplishment "pretty cool, and something he definitely deserves. He has put in a lot of work. It was fun doing it myself, but it's even more fun watching him do it."
 
Matt has enjoyed watching Jordan's game grow in college.
 
"When he's feeling it and the confidence is there, he's one of the best players in the country," Matt said.
 
Zach didn't make it to 1,000 points, but he has an impressive streak going. He has seen all 84 of Jordan's college games in person.
 
"I think the biggest thing is just the leadership role he has taken on this year compared to the first couple of years," Zach said. "For them to bounce back after a couple of early Big Ten losses, it has been great to see him as a leader in that regard."
 
All four Bohannon boys did reach 1,000 career points at Linn-Mar (Iowa) High School. Jason ranks second on the school's career scoring list. Jordan is fifth, Matt sixth, and Zach eighth. Zach is also Linn-Mar's career rebounding leader.
 
Gordy, was a quarterback at Iowa, also played basketball at South Pasadena High School. He didn't score 1,000 points.
 
"But I passed for 1,000 yards," he said.
 
Jordan says that the standards established by his brothers weighed on him as a kid.
 
"You have your older brothers doing all these big things, and everyone around you is saying, 'Oh, you're going to be such a great player,'" Jordan said. "You have all these expectations, and it was hard for me. I had to put my head down and work, and try to tune out everyone."
 
Saturday's victory, Iowa's second over a top 25 foe in the past seven days and third of the season, also offered a look into the maturation of Bohannon as a player.
 
Known as a shooter when he came to Iowa, his value now goes beyond points. He made just one of seven shots from the field against the Buckeyes, but matched a season-high with eight assists to just two turnovers and also had a pair of steals.
 
One of those assists was a nifty pass to Ryan Kriener for a second first-half dunk.
 
But after the game, it wasn't that pass that was first and foremost on Kriener's mind as they passed each other in the postgame interview room.
 
"Mr. 1K," Kriener said.