Hawk Talk Monthly — January | Hawkeye Fan Shop — A Black & Gold Store | Fight For Iowa | Notes (PDF)
THIS WEEK FOR THE HAWKEYES
The University of Iowa women's tennis team opens the 2019 season hosting Xavier on Friday and North Texas on Sunday at the Hawkeye Tennis and Recreation Complex. The Hawkeyes host Xavier, Friday, at 5 p.m. (CT) and North Texas, Sunday, at 10 a.m. (CT). Admission is free.
@SASHASCHMID ON SEASON OPENER
"There is no substitution for us going through match play, and as a team we are really hungry and excited to do that. I think there is going to be a bit of a learning curve with close to half the team making their collegiate debut this season, but the team has gotten a lot out of the first semester and few weeks we've been back from winter break. They've competed well all year, are hungry, play well together, and give each other confidence. Like any team there will be lots of growth throughout the season but as a team we are ready to get started."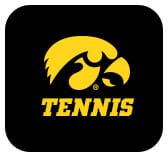 TAKING ON THE MUSKETEERS
Friday's match will be first meeting all-time between Iowa and Xavier. The Musketeers return sophomore Ahmeir Kyle, who picked up All-Big East honors last season. Xavier finished with an overall record of 13-11 last season. 
TAKING ON THE EAGLES
Sunday's match is the second meeting all-time between Iowa and North Texas. The Eagles lead the all-time series, 1-0. The previous and only match between the two teams was in 2018, where the Hawkeyes were defeated (4-3). 
HAWKEYE NEWCOMERS
The Hawkeyes welcome four freshman and one sophomore transfer to the roster this season. They include Samantha Mannix, a five-star recruit from Elkhorn, Nebraska; Michelle Bacalla from Niles, Illinois, a fellow five star recruit; Sophie Clark from Swindon England, who placed Top 16 in the singles main draw at the ITA Central Regional Championship this fall; and Cloe Ruette from Lanaken, Belgium, who missed most of the fall season due to injury. Ashleigh Jacobs of Alberta, Canada, is a sophomore transfer from Gonzaga University.
BECOME A FAN
Fans can follow the Iowa women's tennis team at facebook.com and via twitter
@Iowa_Tennis. Live results from this weekend are available on the Iowa women's tennis schedule page at hawkeyesports.com.
FOLLOW THE HAWKEYES
Links to live results and a live video stream will be available on the women's tennis schedule page at hawkeyesports.com/playsight.