Hawkeye Fan Shop — A Black & Gold Store | Hawk Talk Monthly — January | 24 Hawkeyes to Watch | McCaffery News Conference Transcript (PDF)
By JAMES ALLAN
hawkeyesports.com
IOWA CITY, Iowa — It isn't coincidence that the No. 23/24 University of Iowa men's basketball team's four-game winning streak has corresponded with the best run of Ryan Kriener's college career.
 
Since Big Ten Conference play resumed Jan. 3, Iowa's junior forward has been averaging 10.4 points and 2.8 rebounds.  Kriener is shooting 62.5 percent (20-of-32) from the floor during the stretch, including a 66.7 percent mark from 3-point range.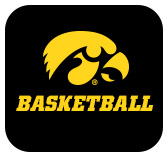 Kriener has made 4-of-6 3-point field goals in the five-game stretch after making just three 3-pointers in Iowa's first 13 games.
 
"This is what I see in practice," said sophomore Luka Garza of Kriener's surge. "When we go through the whole month before the season starts, he's a top performer in practice. It's always great competition going against him and seeing him come and play with that same confidence he does in practice in games is great to see."
 
Kriener's career in Iowa City has been a progression.  As a freshman, he played behind Tyler Cook and Cordell Pemsl, averaging 3.1 points in 8.4 minutes per game.  Last season, Kriener would start to turn the corner then an injury would occur.  He battled two concussions during the year.
 
Now, healthy and confident, Kriener is enjoying the best stretch of his collegiate career.
 
"He's a guy that worked hard this summer on his body and game," said Iowa head coach Fran McCaffery. "He is an intelligent guy, he studies, thinks, and understands the game, and he can make adjustments based on his experience.  You're seeing that."
 
During Wednesday's 89-82 road win at Penn State — Iowa's fourth straight victory, moving the Hawkeyes into fifth place in the Big Ten standings with a 4-3 record — Kriener showed another element of his game. 
 
On three straight possessions in the second half, the 6-foot-9 forward took Nittany Lion center Mike Watkins to the basket for two layups and a dunk.  He made also made 2-of-3 3-point field goals — a career-high — to finish with 15 points in 21 minutes.
 
"I put it on the floor a little in high school, but not a whole lot," said Kriener. "The college game is faster than high school. When you first get here, you're not able to do a lot of the stuff you were able to in high school.
 
"I had to learn that and I did a lot in the summer in our open gyms and the extra hours of practice. I was able to get back to ball handling off the dribble."
 
Kriener is playing looser and more comfortable. He's getting the most playing time of his career, averaging 18.4 minutes since the start of 2019.
 
"(The comfort) comes from the coaches and the guys staying with me, telling me to trust my talent and go do my thing," said Kriener. "I don't think of big moments, everything is the same if you put your best foot forward."
 
Kriener is showing the all-around game that McCaffery saw while recruiting Kreiner out of Spirit Lake (Iowa) High School.
 
"I loved his game," said McCaffery. "I knew he could shoot, but he proved to me that he was a really good basketball player. Sometimes you look at a big guy, and he's a banger, shot blocker, or runner, but he's a skilled guy.
 
"He can run, he's physical, can move his feet, space the floor with his offense, and he's a willing passer.  I always thought he was a good player.  I remember the first time I saw him, it was a Barnstormers workout and he was a young kid.  I said, 'This guy has a chance.'"
 
The Hawkeyes return to Carver-Hawkeye Arena on Sunday, hosting Illinois at 12:01 p.m. (CT) on Mediacom Court.  The Illini are 5-12 overall, 1-5 in Big Ten play, but McCafferey says don't let their record fool you.
 
"A lot of times you can look at a team's record and make a determination on who they are," said McCaffery. "Maybe you can do that at the end of the year, but not at the beginning of the year.
 
"Illinois has a lot of new players, a lot of freshmen and new guys.  Their record is sub-.500, but they were in every game, they battled every game, and you knew they were going to put it together at some point.  It's one of those things where you hope, it's not against you."
 
It was against Minnesota. Illinois notched its first Big Ten win with a 27-point home win over the Golden Gophers on Wednesday. Freshmen Ayon Dosunmu and Giorgi Bezhanishvili combined for 43 of Illinois' 95 points and the Illini shot 56 percent.
 
"They're going to go," said McCaffery. "They're going to come at you. The one thing that sticks out is if you watch them play, they're going to compete."
 
Tickets are available for Sunday's game through the Iowa Athletics Ticket Office.  The game will also be televised on BTN with Brandon Gaudin and Shon Morris on the call.