Hawkeye Fan Shop — A Black & Gold Store | Hawk Talk Monthly — January | 24 Hawkeyes to Watch 2018-19 | I-Club Events Page | Rutgers-Iowa Recap | Photo Gallery
By DARREN MILLER
hawkeyesports.com
IOWA CITY, Iowa — University of Iowa head wrestling coach Tom Brands called it on Tuesday, three days before the anticipated 133-pound match between No. 3 Nick Suriano of Rutgers and No. 8 Austin DeSanto of Iowa.
 
"He's going to wrestle seven minutes and he's a handful," Brands said of DeSanto.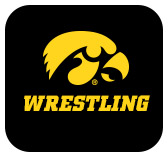 With 1.5 seconds remaining — in other words, after wrestling 6 minutes, 58.5 seconds — DeSanto got his head through on a shot to Suriano's right leg and put the Rutgers junior to his rear for a dramatic 6-4 victory.
 
It is the second time in less than a week that DeSanto has defeated an opponent who has NCAA Finalist on his resume. On Jan. 13, he knocked off seventh-rated Ethan Lizak of Minnesota, 6-1.
 
"We have to wrestle seven minutes and it is not going to be our guy standing there watching, looking, waiting, and hoping," Brands said Tuesday at his weekly news conference.
 
Suriano entered Friday's matchup on Medicom Mat inside Carver-Hawkeye Arena with a record of 14-1. Three of his four career on-mat losses (he has medically forfeited twice) have come against Iowa wrestlers: 3-2 against Thomas Gilman (when Suriano competed for Penn State), 5-1 to Spencer Lee in the 2018 NCAA 125-pound final, and now 6-4 against DeSanto.
 
After his biggest win of the season, DeSanto gave a shout out to Gilman and Lee…and Max Murin, Vince Turk, Nick Dardanes, and Cory Clark. Those are his elite-level sparring partners in the Dan Gable Wrestling Complex.
 
"I'm getting better every single week," DeSanto said. "Those guys are all top-level dudes and they are beating my butt. Getting beat, coming back…if I think I beat one of those guys, they're coming back with a new plan and that's how we all grow. When I get taken down, I'm thinking about it that entire night. It's a pretty cool room."
 
That room has helped DeSanto climb to new heights, and as he ascends, he is working to improve all aspects of his wrestling — physically, mentally, and emotionally. 
Following wins against Lizak and Suriano, Iowa was deducted a team point for unsportsmanlike conduct following postmatch jawing from DeSanto.
 
"I have fight in me, but I don't need to scream in (anyone's) face," DeSanto said. "I don't need to do that. It's not cool. I'm just emotional about it and I have to keep it in check."
 
He needs to look no further than Lee, a close friend and the defending NCAA champion at 125 pounds. On Friday, Lee improved to 11-1 on the season with a fall in 38 seconds. He stuck around to watch the Suriano-DeSanto match.
 
Afterward, he was asked about his passionate teammate.
 
"He gets all fired up, then he goes out there and he has to wrestle his match," Lee said. "He is wrestling his match, then he wins, and his mind goes to 'I did it' and his emotions take over. He is working on it. I know he is getting a lot of negative attention for the last two matches and he is working on it. We love him and he believes in us. He is an emotional kid."
 
DeSanto (12-1) has won eight consecutive matches since falling to Iowa State's Austin Gomez, 14-9, on Dec. 1.
 
"I'm getting better," DeSanto said.
 
Brands sees it, too. So much so that he offered another prediction for DeSanto, who he describes as a shy guy.
 
"He's going to be the Big Man on Campus if he keeps wrestling the way he's wrestling."