Hawkeye Fan Shop — A Black & Gold Store | Hawk Talk Monthly — January | 24 Hawkeyes to Watch 2018-19 | I-Club Events Page
By DARREN MILLER
hawkeyesports.com
IOWA CITY, Iowa — The University of Iowa and Rutgers women's basketball teams are studies in contrast. Everywhere, that is, but the Big Ten standings.
 
Iowa leads the Big Ten in scoring (81 points per game), Rutgers is tops in scoring defense (53.9).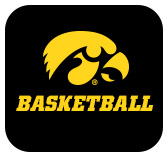 Iowa leads the Big Ten (and the nation) in field goal percentage (52.2), Rutgers tops the conference and is ninth in the nation in field goal defense (33.8).
 
Iowa leads the Big Ten in assists per game (22.4), Rutgers is tops in steals per game (10.4).
 
Regardless of style and how they do it, the No. 17 Hawkeyes and No. 14 Scarlet Knights are equally adept at collecting victories. Rutgers is 15-3 overall, 7-0 in Big Ten play, Iowa is 14-4, 5-2.
 
Both teams enter Wednesday's meeting on Mediacom Court inside Carver-Hawkeye Arena with momentum: Iowa swept three games last week and has won five of its last six; Rutgers is on a 10-game winning streak.
 
"We have to stay focused on the mission at hand," Iowa head coach Lisa Bluder said Tuesday at a news conference in Carver-Hawkeye Arena. "We can't get caught up in rankings — No. 1 and No. 2 in the Big Ten. It is one game, we need to play it to the best of our ability and accept the consequences. I want everybody else to be excited about it, I don't want my team to get caught up in that."
 
There is more to this than a typical rivalry. Rutgers joined the Big Ten in 2014-15 and since then, Iowa is 5-0 against the Scarlet Knights. Rutgers is coached by Hall of Famer C. Vivian Stringer, who won 269 games as head coach of the Hawkeyes from 1983-95.
 
Everything points to a perfect storm of an outstanding atmosphere for an important Big Ten Conference women's basketball game.
 
"I hope we create a great environment, our players deserve it," Bluder said. "Vivian has a lot of supporters in our community and I hope they want to come back. I say welcome (Vivian) back, but cheer for the Hawks."
 
Because of playing three games in six days last week (all Iowa victories and two on the road), the Hawkeyes were forced to focus quickly on the next task at hand. That lesson could come in handy as Iowa prepares for a stingy Rutgers defense.
 
"Intense, up in your face and in the passing lanes," Iowa senior Tania Davis said.
 
"Probably one of the most pressure defenses we will face this year," added Iowa senior Megan Gustafson.
 
"It's the excitement of a new challenge every game," said Iowa senior Hannah Stewart. Then she leaned on that narrow focus that guided the Hawkeyes to wins over Minnesota, Michigan, and Illinois. "OK, on to the next challenge and on to building our resume with a better record."
 
Here's something to keep an eye on when the teams tip-off Wednesday at 7 p.m.: while Rutgers tries to get Iowa out of sync with its defense, the Hawkeyes will counter with an efficient transition game.
 
"We can't get too amped up by looking at the scoreboard and seeing we don't score as many points as we usually do," Bluder said. "We can't lose our focus."
 
Confidence (and production) is high for Iowa, especially on offense and from beyond the 3-point arc. In the three games last week, the Hawkeyes shot 43.2 percent from distance and averaged more than six 3-point field goals per game. On Sunday, during a 94-75 win at Illinois, Iowa made 11 of 22 from 3-point range.
 
"Our offense is clicking with the outside shot, which is pretty fun for me because it opens things inside and makes my job easier rebounding," Gustafson said. "Having that confidence and everyone having confidence in each other is going to be important."
 
Gustafson leads the NCAA in points per game (26.2) and field goal percentage (70.7) and is third in rebounds per game (13.0).
 
For tickets to watch Iowa and Rutgers on Wednesday in Carver-Hawkeye Arena, click HERE.