Hawkeye Fan Shop — A Black & Gold Store | Hawk Talk Monthly — January | 24 Hawkeyes to Watch | McCaffery News Conference Transcript (PDF)
By JAMES ALLAN
hawkeyesports.com
IOWA CITY, Iowa — Luka Garza feels the buzz when he is walking around the University of Iowa campus.
 
Leading into Thursday's Big Ten Conference showdown against No. 6 Michigan State — a game that will tipoff at 6:01 p.m. (CT) on Mediacom Court inside Carver-Hawkeye Arena — the anticipation and hype is greater than usual.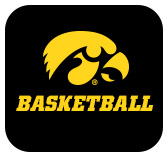 "It's different when it's Michigan State, a top 10 team," said Garza.
 
"It's a big game, we're not going to act like it is not," said junior Tyler Cook. "We have to prepare for it and stay focused like it is any other game.  Once the ball goes up, it's our business to try to win every possession."
 
That is a good approach for the Hawkeyes.  That's what it will take to end a Spartan Big Ten regular- season winning streak that has reached 20 games.  A Spartan league winning streak that dates back more than a calendar year (Jan. 13, 2018) and one that includes 11 road wins.
 
"That proves how consistent they have been," said Cook. "What they do works for them and they're pretty good at it. It's a challenge for us to not just think of that, but think of how we can end that streak (Thursday) night."
 
Michigan State is 17-2, 8-0 in Big Ten play.  The Spartans' second Big Ten win of the season (and win No. 14 during the streak) came on Dec. 3, in East Lansing via a 90-68 victory over Iowa. 
 
The Hawkeyes trailed 29-26 with four minutes remaining in the first half before seeing the deficit grow to 43-33 at the break.  It went from 10 to 20 points over the first four minutes of the second half and from 20 to 30 midway through the second half.
 
"We were right there at the end of the first half and let things get away from us," said Cook. "Our defense in the first four minutes of the second half, that's where they got us.  Once they get rolling, it's hard to stop, especially in their own building.
 
"We have to make sure we're locked in during all stretches of the game."
 
The lopsided loss is a motivator.
 
"Everyone on this team has pride, and when you lose like that to a team, you always want to come back and have a better performance," said Garza. "Everyone on this team has a goal like that and we want to get it done."
 
For Iowa to flip the script, the Hawkeyes must be better in transition.  Michigan State used its transition game to score 48 of its 90 points in the paint with forward Nick Ward finishing 10-for-10 from the field en route to his 26-point performance.
 
Guard Cassius Winston, the reigning Big Ten Player of the Week, was the facilitator, finishing with eight points and 12 assists.
 
"They run on both makes and misses and a lot of times it's off your bad shots and turnovers," said Iowa head coach Fran McCaffery. "You have to get back or they're going to get easy baskets, plain and simple."
 
The Hawkeyes are churning along themselves.  Iowa has won five straight and 10 of its last 11 games dating back to Dec. 6. 
 
"We are in a good groove," said Cook. "As they year goes on, we continue to figure things out.  There are going to be ups and downs, we know that, but we have to have a level of consistency in what we're doing on both ends of the floor.
 
"We're excited for Thursday. It's going to be two great teams going to battle and it will be a lot of fun."
 
Free tickets are available for University of Iowa students and there will also be free public parking.  Tickets are available at hawkeyesports.com/tickets.
 
"It's huge to play in a packed arena, especially if we can get students there," said Cook. "Tomorrow is a free student ticket game, so I expect the student section to be full.  That's a huge advantage for us."
 
Thursday's game will be televised on FS1 with Tim Brando and Bill Raftery on the call.