Hawkeye Fan Shop — A Black & Gold Store | Hawk Talk Monthly — January | 24 Hawkeyes to Watch 2018-19 | I-Club Events Page | 7 Hawkeyes Set for Duhawk Open | Weekend Match Notes
By DARREN MILLER
hawkeyesports.com
IOWA CITY, Iowa — Iowa's Alex Marinelli and Joey Gunther of Illinois have gone from teammates to adversaries and their first head-to-head match is Friday. 
 
Marinelli and Gunther combined for 35 wins for the University of Iowa wrestling team in 2017-18.
 
Marinelli, a redshirt freshman 165-pounder, was 19-6 and earned All-America honors; Gunther, a sophomore 174-pounder, was 16-9 and qualified for the national tournament for the second time in as many seasons.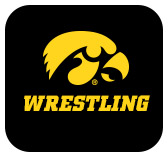 On Friday evening in Huff Hall in Champaign, Illinois, Marinelli and Gunther will be opponents. A native of Libertyville, Illinois, Gunther transferred to the Illini following the 2017-18 season. It was an amiable parting.
 
"We are not about drama, we wished him well when he left," Iowa head coach Tom Brands said.
 
"There is no bad blood with me and him," Marinelli said. "It's just another opponent. Joey Gunther was a good training partner for me last year. He knows how I wrestle and I know how he wrestles. I'm going to go out there and wrestle how I know how."
 
Gunther began his Iowa career as a 165-pounder, going 18-5 during his redshirt season in 2015-16. The next season, with Marinelli wearing a redshirt, Gunther was Iowa's varsity 165-pounder, winning 20 of 30 matches and going 2-2 at the NCAA Championships.
 
When Marinelli won the 165-pound spot in 2017-18, Gunther bumped to 174. He still enjoyed success, heading into the Big Ten Championships with a record of 13-4. Gunther went 3-3 at Big Tens and 0-2 at the 2018 NCAA Championships.
 
With Marinelli at 165 and junior Michael Kemmer moving up two weight classes to 174 in the offseason, Gunther found himself without a spot on the Hawkeye roster. He is 15-7 this season at Illinois, 2-1 in duals.
 
"We wrestled and we wrestled live," Marinelli said of his days in the same room with Gunther. "He was only one weight class above me and we hung out. It was fine. It doesn't matter who they put in front of me. I could wrestle Kaleb Young, I could wrestle Pat Lugo out on the mat, it shouldn't matter. Once you're on the mat, it's about what you know how to do and you have to get your hand raised."
 
Although Marinelli and Gunther have never wrestled in an actual competition, Iowa freshman Nelson Brands defeated Gunther 3-1 on Nov. 17 at the Lindenwood Open.
 
Iowa (8-0 overall, 3-0 Big Ten) enters the dual at Illinois ranked No. 4 in the country. No. 20 Illinois is 2-3, 1-2.
 
For Marinelli, it has been another impressive start to a season. He is ranked second at 165 with a record of 13-0 and six falls. (Last season Marinelli was 14-0 heading into the Big Ten Championships).
 
"I don't give (Marinelli) enough credit because that is what we expect and we're never satisfied," Brands said. "So Marinelli, you have more to give, so give us more. OK, good, now we're there. Hey, give us more. He is about that: more, more, more. Sometimes you have to pause and say, 'This guy is pretty doggone special for our program, for his teammates, for recruiting.' It is showing up, but it showed up last year, too, and we have to keep a good thing going."
 
During his first two varsity seasons, Marinelli owns one win over a top-ranked competitor (9-6 over Penn State's Vincenzo Joseph in 2018) and another over a wrestler ranked No. 2 (4-3 over Wisconsin's Evan Wick to win the 2018 Midlands Championships).
 
Two of Marinelli's many strengths are his pace and conditioning.
 
"A lot of guys try to slow me down and you have to stay on them and in good position," Marinelli said. "When the opportunity comes, put him away; put the nails in the coffin. These guys don't want it hard, they don't want a hard match and I'm not afraid to get tired.
 
"That is what I try to preach to this team: you cannot be afraid to get tired because our shape and our body will not betray us. We train too hard."
 
The Iowa-Illinois dual begins at 8 p.m. (CT). It is televised by BTN with Shane Sparks and Ken Chertow on the call.