Hawkeye Fan Shop — A Black & Gold Store | Hawk Talk Monthly — January | Fight For Iowa
HANOVER, New Hamshire — The University of Iowa women's tennis team improved to 3-0 Saturday, defeating Dartmouth, 6-1, in their first road match of the season in Hanover, New Hampshire.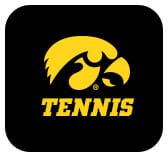 Senior Adorabol Huckleby and junior Elise van Heuevelen Treadwell started the Hawkeyes off by defeating the doubles team of Allison Chuang and Allison McCann, 6-1.
Freshmen Samantha Mannix and Sophie Clark clinched the doubles point with their win over Dartmouth's Racquel Lyn and Abigail Chiu, 6-4. Ashleigh Jacobs and Clue Ruette completed the doubles sweep, defeatingJingyi Peng and Nina Paripovic, 7-6 (5).
Clark got the Hawkeyes rolling in singles by defeating Catherine Cable in straight sets, 6-2, 6-2, at No. 4 singles. Jacobs followed with anotherstraight-set victory over Nina Paripovic, 6-3, 7-6 (4), at No. 3 singles.
The remaining Hawkeye singles wins came in highly contested three-set matches.
Elise van Heuvelen Treadwell clinched the Hawkeye victory by defeating Racquel Lyn, 6-1, 4-6, 6-3, at No. 2 singles.
Adorabol Huckleby defeated Jingyi Peng, 6-3, 3-6, 6-1, at the No. 5 position.
Samantha Mannix won a tough match in the No. 1 position. Mannix dropped the first set, 4-6, but rallied to win the second and third sets, 6-3, 6-4.
QUOTING SASHA SCHMID
"Dartmouth competed well and I was proud of the way we responded to tough situations in hard fought matches today. Today was a great team win, and we are looking forward to getting back on court tomorrow and competing hard against a good Brown team."
 
UP NEXT
The Hawkeyes return to action Sunday versus Brown. Match play is set to begin at 8 a.m. (CT)
Iowa 6, Dartmouth 1
Jan. 26, 2019 | 12 p.m. | Hanover, NH | Boss Tennis Center
 
Doubles
1. Mannix/Clark def. Lyn/Chiu, 6-4
2. Van Heuvelen Treadwell/Huckleby def. Chuang/McCann, 6-1
3. Jacobs/Ruette def. Peng/Paripovic, 7-6
Singles
1. Samantha Mannix def. Chiu, 4-6, 6-3, 6-4
2. Elise van Heuvelen Treadwell def. Lyn, 6-1, 4-6, 6-3
3. Ashleigh Jacobs def. Paripovic, 6-3, 7-6
4. Sophie Clark def. Cable, 6-2, 6-2
5. Adorabol Huckleby def. Peng, 6-3, 3-6, 6-1
6. Guan def. Cloe Ruette, 6-0, 6-3
Match Notes:
Iowa: 3-0
Montana: 0-2
Order of finish: Doubles (2,1,3); Singles (4, 6, 3, 2, 5, 1)
Iowa leads the all-time series, 3-0