Hawkeye Fan Shop — A Black & Gold Store | Hawk Talk Monthly — January | Fight For Iowa
HANOVER, New Hampshire —  The University of Iowa women's tennis team grabbed its second road victory of the season, defeating Brown, 6-1, on Saturday in Hanover, New Hampshire.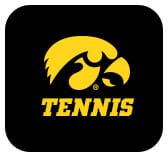 Sophomore Ashleigh Jacobs and freshman Cloe Ruette started the doubles portion off strong by defeating the team of Reddy and Newman, 6-2.
Adorabol Huckleby and Elise van Heuvelen Treadwell clinched the doubles point for the Hawkeyes with a victory over Alessandra Bianco and Juliana Simon, 6-3.  Samantha Mannix and Sophie Clark did not finish their No. 1 doubles match against Brown's Devon Jack and Ryan Peus.
The Hawkeyes continued their recent success in singles rolling, winning five of six singles matches. Ashleigh Jacobs started the Hawkeyes off with a straight set win over Sophia Reddy, 6-2, 6-2 at No. 3 singles. Sophie Clark put Iowa up 3-0 with a win at No. 4 singles, defeating Ryan Peus in straight sets, 6-2, 7-6 (7).
Adorabol Huckleby claimed the victory for the Hawkeyes with a grueling three-set match defeat of Juliana Simon, 3-6, 6-4, 7-5 at No. 5. Cloe Ruette grabbed a three-set victory of her own in her win over Alessandra Bianco, 6-7, 6-4, 6-3 at the No. 6 position.
Elise van Heuvelen Treadwell defeated Taylor Cosme, 7-5, 5-7, 7-5, at No. 2 singles.
QUOTING SASHA SCHMID
"Today was another hard fought win for our young team. A very valuable experience for our team to be in highly contested battles on all courts. I continue to be so proud of our grit and competitiveness in crucial situations. Today was a great team victory. I'm pleased with our start to this spring season. We are looking forward to getting back to work at practice and continuing to improve. "
UP NEXT
The Hawkeyes return to action at home Friday, Feb. 8 against Iowa State in the annual Iowa Corn Cy-Hawk Series. The match is set to begin at 7 p.m. (CT) at the Hawkeye Tennis and Recreation Complex. 
Iowa 6, Brown 1
Jan. 27, 2019 | 8 a.m. | Hanover, NH | Boss Tennis Center
 
Doubles
1. Mannix/Clark vs. Jack/Peus , DNF
2. Van Heuvelen Treadwell/Huckleby def. Bianco, Simon, 6-3
3. Jacobs/Ruette def. Reddy/Newman, 6-2
Singles
1. Jack def. Mannix, 6-3, 3-6, 2-6
2. van Heuvelen Treadwell def. Cosme, 7-5, 5-7, 7-5
3. Jacobs def. Reddy, 6-2, 6-2
4. Clark def. Peus, 6-2, 7-6 (7)
5. Huckleby def. Simon, 3-6, 6-4, 7-5
6. Ruette def. Bianco, 6-7, 6-4, 6-3
Match Notes:
Iowa: 4-0
Brown: 1-3
Order of finish: Doubles (3, 2); Singles (3, 4, 1, 5, 6, 2)
Iowa leads the all-time series, 2-1