Hawkeye Fan Shop — A Black & Gold Store | Hawk Talk Monthly — January | Fight For Iowa
By ROB McCOLAUGH
hawkeyesports.com
IOWA CITY, Iowa — The University of Iowa women's tennis team is off to an impressive 4-0 start this spring season in no small thanks to contribution from freshman Sophie Clark.
The Swindon, England, native has shown no jet lag in her play for the Hawkeyes.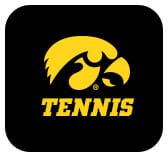 Through the first two weeks of the season, Clark has posted a 4-0 record at the No. 4 singles position, and a 2-1 record with fellow freshman, Samantha Mannix, at the No. 1 doubles position. She has won half her singles matches in straight sets, including a marquee win against No. 102 Minying Liang of North Texas. Though her early season success is unquestioned, her path to the University of Iowa was full of them.
Before arriving on campus last fall, Clark had never stepped foot on campus. She had only seen the Hawkeye Tennis and Recreation Complex in pictures. Her distant, yet strong, relationship with Iowa head coach Sasha Schmid was what brought her here, sight unseen.
"From multiple conversations with Sasha over my recruiting period, I gained the sense that Sasha really cared about the individuals on the team. I could tell I would get along well with her and the atmosphere she has created within the program," Clark said.
Though her confidence in Schmid and Iowa were high, the change in scenery is something she admits weighed heavily on her mind.
"My biggest worry was the idea that I was leaving family, friends, and everything I knew. I was fearful of traveling so far and not making strong bonds or friendships."
Clark, along with four other newcomers, was the beneficiary of a relatively limited competition schedule during the fall season. In years past, the team would compete in four to five team events during the fall season. This fall, the Hawkeyes competed in just two team events. This strategy seems to have paid dividends both on and off the court for Clark.
"I was able to settle in quickly in a new environment and meet amazing people and build very strong relationships. I think that my tennis has improved immensely during my time at Iowa so far. The environment has helped me so much with my confidence and belief in my game."
Clark and the Hawkeyes are set to begin Big Ten play later this month. Led by senior Adorabol Huckleby and two-time All-Big Ten performer Elise van Heuvelen Treadwell, the team is excited to continue the fun and maintain the success they've had thus far.
"Playing matches and travelling with the team is way more fun than I'd imagined," Clark Said. It is a great experience to be able to all fight as one unit and put all of our hard work during training into the matches and seeing results."
The Hawkeyes (4-0) return to action at home Friday, Feb. 8 against Iowa State in the annual Iowa Corn Cy-Hawk Series. The match is set to begin at 7 p.m. (CT) at the Hawkeye Tennis and Recreation Complex.
February Schedule
Feb. 8 Iowa State
Feb. 9 Depaul
Feb. 17 @ Marquette
Feb. 22 @ Northwestern
Feb. 24 Penn State