Hawkeye Fan Shop — A Black & Gold Store | Hawk Talk Monthly — February | 24 Hawkeyes to Watch 2018-19 | Photo Gallery | Plenty of Options at Closer
By JAMES ALLAN
hawkeyesports.com
IOWA CITY, Iowa — There are 15 new faces on the University of Iowa baseball team and two first-year assistant coaches, but head coach Rick Heller believes the culture is in place to continue moving the needle forward in 2019.
 
The Hawkeyes have posted five straight 30-win seasons, averaging 34.6 wins during Heller's tenure, but the team had to rely on that culture through adversity in January when assistant coaches Desi Druschel and Joe Migliaccio were plucked by the New York Yankees' organization.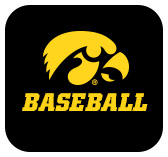 Heller relied on team captains Mitchell Boe, Cole McDonald, Chris Whelan, and Kyle Shimp to ease the transition.  Iowa added Robin Lund and Tom Gorzelanny to the coaching staff on Jan. 28.
 
"They have done an amazing job up to this point," said Heller. "We are going to rely on them a lot, especially with the coaching changes. (The captains) have seen a lot in their four years and have been a part of good teams with good cultures.
 
"I know they set out this fall to make this the best ever and I couldn't be happier with the leadership we have gotten from those guys."
 
Boe and Whelan are two of Iowa's four positional starters returning in 2019 along with juniors Lorenzo Elion and Justin Jenkins.  Among the 15 newcomers are a 10 transfers, and several are in positional battles.
 
Iowa has enjoyed success with junior college transfers during Heller's tenure in Joel Booker, Jake Adams, and Tyler Cropley.  The latest batch includes Iowa City native Izaya Fullard, first baseman Tanner Padgett, catcher Austin Martin, and outfielder Zeb Adreon.
 
"You never know what's going to happen with junior-college transfers," said Heller. "I feel like all those guys have done what they needed to do. We have gotten great buy-in from them. They have put themselves in a position to get off to good starts."
 
Whelan is Iowa's top returnee for a Hawkeye offense that Heller believes will be better in 2019.  In an injury-shortened season, Whelan hit .308 with 10 RBIs and 36 runs scored as a junior. Iowa hit .265 as a team, belted 41 home runs, and averaged six runs per game.
 
"Offensively, we have made big strides," said Heller. "I think we'll be much improved from top to bottom."
 
While the offense is improved, Heller sees the Hawkeyes strength being on the mound.  The rotation features McDonald (3-2, 3.23 ERA, 52 K) as the anchor along with sophomore Jack Dreyer (5-2, 3.69 ERA), sophomore Cam Baumann (1-1, 7.20 ERA), and junior Grant Judkins (1-0, 4.12 ERA).
 
"We have a lot of pitching depth, and we have a chance to pitch extremely well," said Heller. "Our bullpen is deep, which is nice.  We have a lot of options for virtually every situation, at least on paper."
 
Trusted relievers Zach Daniels (MLB Draft) and Nick Nelsen (graduation) are gone, but the Hawkeyes return Grant Leonard (2-1, 4.64 ERA, 2 saves) and Ben Probst (1-0, 4.35 ERA). Other options include transfer relievers Hunter Lee, Jason Foster, Trace Hoffman, and Jake McLaughlin along with freshmen Clayton Nettleton, Drew Irvine, and Duncan Davitt.
 
Heller is confident the Hawkeyes can build on their 30-win season in 2018 because of the culture.
 
"They are a tight-knit group; they bonded this fall," said Heller. "We made big strides in all areas throughout the fall and the guys have filled the gaps (left by Tyler Cropley, Robert Neustrom and Nick Allgeyer). 
 
"I think this team has a chance to have a really good year."
Iowa opens the season Feb. 15 against George Mason at the Diamond 9 Sunshine State Classic Series in Kissimmee, Florida. The first home game is scheduled for March 6 against Simpson College. For ticket information to games at Duane Banks Field, click HERE.