Hawkeye Fan Shop — A Black & Gold Store | Hawk Talk Monthly — February | 24 Hawkeyes to Watch 2018-19 | Photo Gallery | Culture in Place for 2019 | VIDEO — Hawkeye Closers
By DARREN MILLER
hawkeyesports.com
IOWA CITY, Iowa — First pitch for the University of Iowa baseball team is 10 days away and the Hawkeyes are still searching for who will throw the game's final pitches.
 
Iowa's top two relievers from its 33-win 2018 season are no longer in the bullpen. Zach Daniels, who appeared in 25 games (6-2, 2.56 ERA, five saves), is now in the Atlanta Braves organization and Nick Nelsen, who appeared in 28 games (2-1, 3.60 ERA, three saves), graduated.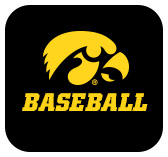 Still, plenty of relief depth means plenty of possibilities for Iowa head coach Rick Heller.
 
"This will the first time in a while we haven't had an experienced guy at the back end of the game, but I feel like we have some good options," Heller said.
 
One is junior right-hander Grant Leonard, who made 21 relief appearances last season. Leonard struck out 23 in 21 1/3 innings, posting a 2-1 record with a 4.64 ERA and two saves.
 
"Grant has improved on some of his pitches and had a good year for us last season," Heller said. "I think he could (close games) as well."
 
Junior left-hander Kyle Shimp had one save in nine appearances and Heller said he will remain in position for late-inning action.
 
Another option is sophomore right-hander Ben Probst. In his first season of collegiate ball, Probst threw 20 2/3 innings in 16 appearances with 21 strikeouts.
 
"Last year I was trying to get used to college and get a fresh start from high school," Probst said. "This year I am hoping to take over that (closer) role and pitch as much as I can.
 
"It took me awhile to figure out if I was going to be a starter, long reliever, or closer, but toward the end of my sophomore year and over the summer I found myself more comfortable in a closer role in the back of the bullpen."
 
Heller added bullpen depth in the form of junior right-hander Trace Hoffman, a native of Cascade, Iowa. Last season, Hoffman led National Junior College Athletic Association Division II in saves (13) while pitching for Southeastern Community College in West Burlington, Iowa.
 
"He's here for that very reason," Heller said. "We recruited Trace to come in and stabilize the losses on the back end of the bullpen."
 
Hoffman was 3-3 in 26 games at Southeastern, throwing 34 2/3 innings and striking out 41. He had a 2.60 ERA.
 
"I know we have a bunch of great pitchers here with a lot of talent," Hoffman said. "We have a bunch of guys who could fill that role, so we're going to attack it as a group and see what we can do this year."
 
Another right-hander, Jason Foster, will compete for innings after transferring to Iowa from Wright State. Foster appeared in 21 games with the Raiders in 2018, compiling a record of 3-2 with a save and a 3.20 ERA in 44 2/3 innings. Wright State qualified for the NCAA Regional at Stanford.
 
"It will be a year where we feel pretty good about the depth we have, probably the best depth we've had in the time I've been here," Heller said. "But it's the first time with nobody who has been out there when the lights are on when we start the season. It will shake out for us, I feel pretty good about it."
 
Iowa opens the season Feb. 15 against George Mason at the Diamond 9 Sunshine State Classic Series in Kissimmee, Florida. The first home game is scheduled for March 6 against Simpson College. For ticket information to games at Duane Banks Field, click HERE.