Hawkeye Fan Shop — A Black & Gold Store | Photo Gallery | Fight For Iowa | Iowa State.DePaul.Game Notes | Iowa ISU
IOWA CITY, Iowa – The University of Iowa women's tennis team defeated Iowa State, 4-1, in the Cy-Hawk Series, earning their 38th consecutive victory against the Cyclones.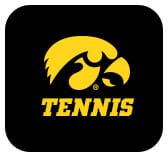 Sophomore Elise Van Heuvelen and senior Adorabol Huckleby captured the lone doubles win for the Hawkeyes, defeating Ekaterina Repina and Regina Espindola 6-2. The pair improve to 5-0 on the season.
Van Heuvelen went on to win her singles match 7-6, 6-2 over Regina Espindola. Huckleby followed with a 7-6, 6-3 win over Regina Timakova. Both women are 4-1 in singles this season.
Freshman Sophie Clark triumphed 6-4, 6-2 over Repina for the third singles victory of the night. Clark also moves to 5-0 on the season.
Sam Mannix completed the last victory of the night with a 1-6, 6-4, 6-0 win over Maty Cancini. She improves to 4-1 on the season.
HEARING FROM HEAD COACH SASHA SCHMID
"I think the team had to respond to a big test tonight. I'm proud of the way they stepped in and fought for the match today. I have a lot of respect for Iowa State, because they played with a lot of spirit and won the energy battle to start the match. I'm also proud of my kids for responding and taking the energy back in some crucial moments in singles. As a team, we held the rope together."
UP NEXT
The Hawkeyes host DePaul tomorrow afternoon at 2 p.m. (CT) at the Hawkeye Tennis and Recreation Complex.
Iowa 4, Iowa State 1
Feb. 8, 2018 | 7 p.m. | Iowa City, Iowa | Hawkeye Tennis and Recreation Complex
 
Singles
Sam Mannix (IOWA) def. Maty Cancini (IAST), 1-6, 6-4, 6-0
Elise Van Heuvelen (IOWA) def. Regina Espindola (IAST), 7-6, 6-2
Sophie Clark (IOWA) def. Ekaterina Repina (IAST), 6-2, 6-4
Adorabol Huckleby (IOWA) def. Margarita Timakova (IAST), 7-6, 6-3
 
Doubles
Cancini/Bonadonna (IAST) def. Mannix/Clark (IOWA), 6-3
Van Heuvelen/Huckleby (IOWA) def. Repina/Espindola (IAST), 6-2
Grib/Timakova (IAST) def. Jacobs/Ruette (IOWA), 6-1