Hawkeye Fan Shop — A Black & Gold Store | Hawk Talk Monthly — February | 24 Hawkeyes to Watch | McCaffery Transcript (PDF)
By JAMES ALLAN
hawkeyesports.com
IOWA CITY, Iowa — The No. 21/17 University of Iowa men's basketball team is preparing to get Rutgers best shot Saturday in Piscataway, New Jersey.
 
The Hawkeyes will face the Scarlet Knights in front of a sold-out crowd of 8,000 at the Rutgers Athletic Center (R.A.C.) at 5 p.m. (CT).  The game will be televised on FS1.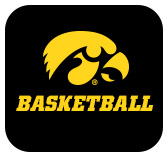 "Rutgers is a tough group," said junior Tyler Cook. "They're a team that fights and competes. One thing you know when you play them, especially at their place, they're going to battle you.  It's another challenge we're looking forward to."
 
Nine of Rutgers' 12 wins have come at the RAC.  That includes Big Ten victories over Indiana (66-58), Nebraska (76-69), and No. 16/17 Ohio State (64-61).  The Scarlet Knights also have two league road wins — at Penn State (64-60) and at Northwestern (59-56) on Feb. 13.
 
"This is one of the best Rutgers teams they've had in a while," said junior Jordan Bohannon. "They're disciplined this year and they're one of the better defensive teams in the conference. It's going to be a grind."
 
Two Rutgers players — Eugene Omoruyi (14.0) and Geno Baker (13.0) — average double figures in scoring for a Scarlet Knight team that consistently goes 10 players deep.
 
"Rutgers is impressive because (head coach) Steve (Pikiell) has had a chance to build it," Iowa head coach Fran McCaffery said. "They always had some good players, but now they just have more of them.
 
"They have depth, and the ability to overcome one guy having an off night.  They have a good guard (Baker) and a good front court guy (Omoruyi) to go along with some good, young athletic guys that can play in transition, play fast, and defend."
 
Cook believes the Hawkeyes are a more focused team in road games this season compared to last.  Iowa has won three of its last four road games to even its record at 3-3 this season.  The Hawkeyes were 1-10 on the road last season.
 
"We understand what it takes to come away with a win in this conference when you're not at home," said Cook. "Along with us being more mature, we're more focused and understand what it takes.
 
"We expect to get our opposing team's best as well as their fans. That makes it even harder for us to get a win.  Our coaches always say the fans don't score a bucket or run back on defense. We have to stay focused on the task at hand and come out and play our best."
 
That wasn't the case Feb. 10 against Northwestern.  The Hawkeyes were fortunate to notch their 19th win after trailing by 15 points with 4:30 remaining.  Iowa rallied to take an 80-79 lead on a 3-pointer from Bohannon with 0.6 seconds left.
 
"There are a lot of things we didn't do well, but luckily we were able to execute down the stretch and make winning plays," said Cook. "The overall consensus is to not let us get to that point.
 
"We know even better now that we have to execute and play hard for all 40 minutes in order for us to get a win at home or on the road. We learn and grow from it and get ready for Saturday."
 
Brian Custer and Jim Spanarkel will be on the call Saturday from the R.A.C. on FS1.