Hawkeye Fan Shop — A Black & Gold Store | Hawk Talk Monthly — February | 24 Hawkeyes to Watch 2018-19 | I-Club Events Page | Game Notes
By DARREN MILLER
hawkeyesports.com
IOWA CITY, Iowa — Every game on the schedule is important. So is every player on the roster.
 
Those facts will be magnified Thursday when the No. 14/13 University of Iowa women's basketball team (19-5 overall, 10-3 Big Ten) hosts Illinois (10-14, 2-11) on Mediacom Court inside Carver-Hawkeye Arena.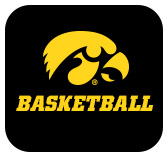 The Hawkeyes are alone in second place in the Big Ten, a half game ahead of Rutgers and a game behind Maryland. For Sunday's showdown against Maryland to be a real showdown, Iowa has to take care of business against the Illini.
 
A key contributor off the bench for the Hawkeyes will be 5-foot-10 freshman guard Tomi Taiwo, who has seen a major increase in minutes since junior Makenzie Meyer went down with a knee injury 11 days ago.
 
"It's nice knowing coach (Lisa) Bluder believes in me," Taiwo said. "Of course we want Mak to be back on the court, but it's nice the team trusts in me and they have been very supportive."
 
Prior to Meyer's injury near the end of the third quarter of Iowa's 81-61 win at Penn State, Taiwo had averaged just more than three minutes of playing time in seven conference games. In the last two games — Hawkeye wins over Michigan State and Ohio State — she has played 17 and 13 minutes.
 
Surrounded by a veteran supporting cast, there is no reason for Taiwo to feel pressure to produce beyond her means. In the last two games she is 2-of-7 from the field and 2-of-3 from 3-point range, with seven rebounds, three assists, a steal, and just one turnover.
 
"It has been good for her this time of year to be getting these important minutes," Iowa head coach Lisa Bluder said. "Pressure minutes and minutes in the first quarter. When you surround Tomi with (senior guard) Tania (Davis) or (junior guard) Kathleen (Doyle), you start to see how good she is going to be. That is encouraging, not only for her, but for everybody else."
 
Prior to playing 17 minutes against Michigan State, the most Taiwo had been on the court in a game was 14 minutes during a 106-39 win over North Carolina Central on Nov. 17. She established career-highs that night with six points, four assists, two steals, and two made field goals.
 
Taiwo credits strength and conditioning coach Lindsay Dinkelman for preparing her physically for a more extensive role on the court.
 
"Going from two to three minutes in one game to 18 minutes, obviously there is a big difference," Taiwo said. "Coach D has helped us with conditioning off the court, so we're ready whenever our name is called on the court. The first five minutes I was a little tired, but now I'm used to it."
 
A native of Carmel, Indiana, Taiwo averaged 16.4 rebounds, 3.3 rebounds, and 2.1 steals as a senior at Carmel High School. She made 65 3-point field goals as a junior. When she enrolled at Iowa, she understood her role.
 
"Coming in as a freshman, it's up and down," Taiwo said. "You don't know when you're going to play, there are people ahead of you. It is about going in there and doing whatever you can to help the team. I don't care who goes in as long as we're getting the job done as a team and winning."
 
Iowa has won three straight games and eight of its last nine.
 
"Our team is really clicking right now," Bluder said. "We have to keep that rolling into this Illinois game."
 
Thursday's contest begins at 7 p.m. (CT) and will be streamed live on BTN Plus. Rob Brooks and Jamie Cavey Lang will call action on the Hawkeye Radio Network. Tickets remain and may be purchased by clicking HERE.