Hawkeye Fan Shop — A Black & Gold Store | Hawk Talk Monthly — February | 24 Hawkeyes to Watch 2018-19 | I-Club Events Page | Match Notes
By DARREN MILLER
hawkeyesports.com
IOWA CITY, Iowa — Mitch Bowman flashed his versatility and physical maturity at North Scott (Iowa) High School, where he was a state wrestling qualifier at 145, 160, 170, and 182 pounds.
 
That weight class flexibility was a prelude of things to come over the next four years.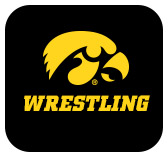 Bowman will compete in the final home dual of his University of Iowa career Friday, presumably at 174 pounds. History shows he could also be in the lineup at 184, 197, or 285. In 58 collegiate matches, Bowman has represented the Hawkeyes at five weight classes.
 
And he has never finished a season with a losing record.
 
"At the end of the day, you're a team player and you have to do what's best for the team," Bowman said. "There are nine other guys in the lineup and they would do that for the team, so I have to meet their commitment, too."
 
He has done it quite well.
 
As a redshirt freshman, he was 10-5 at 174 pounds; as a sophomore, he was 4-3 at 184, 197, and 285. Bowman spent his junior season of 2017-18 as Iowa's primary 184-pounder, going 14-13 overall and 2-2 at the NCAA Championships. That season also produced two of his most memorable victories.
 
On Jan. 13, 2018, Bowman upset Keegan Moore of Oklahoma State, 10-6, swinging momentum in Iowa's favor during a 20-12 dual win in Carver-Hawkeye Arena. On March 3, 2018, Bowman defeated Nick Gravina of Rutgers, 6-4 in overtime, allowing him to qualify for the NCAA Championships.
 
"The Okie State dual last year was a big highlight," Bowman said. "I went in as the underdog, won that match and it was a turning point in the dual. Big Tens last year — avenging a loss to the Rutgers kid — that was big for me. He was a top 15 kid and I wasn't supposed to win that either and got it done in overtime."
 
Bowman is 5-4 this season and will take on Indiana freshman Jacob Covaciu on Friday at 174 pounds. In his most recent outing Feb. 8, Bowman pinned Josh Ugalde of Maryland in 2:44.
 
"He has been a journeyman," Iowa head coach Tom Brands said of Bowman. "Whatever the call was for him, he did it. He did his due diligence to make sure he was representing the way that we need to represent."
 
Bowman is the lone Hawkeye senior from the wrestling-rich state of Iowa. As a freshman in high school, he placed eighth at 145 pounds. He qualified, but did not place, as a sophomore at 160. As a 170-pound junior, he was the Class 3A runner-up, losing in overtime in the finals. Bowman won a state championship at 182 pounds as a senior.
 
He entertained college wrestling options in the Ivy League, but instead walked-on at Iowa.
 
"His investment is significant, because he is a walk-on who took a chance," Brands said. "He could have gone other places and he chose to stay and be a Hawkeye. We needed that in our program."
 
Bowman has overcome knee injuries, shoulder injuries, and weight class uncertainty. Thirty-three wins and 22 bonus-point victories later, Bowman wouldn't change a thing.
 
"I have always been a Hawkeye since the day I was born," Bowman said. "My family loves Iowa, I love Iowa. The dream of every Iowa kid coming up wrestling is to wrestle for the Hawkeyes."
 
Wins and losses aside, Bowman has become a better man because of his involvement in Iowa's wrestling program.
 
"You become a tougher person," Bowman said. "You're going to face adversity no matter where you're at in life and this is a great learning experience about how to handle it the right way — finding out what you can do to make yourself better."
 
Both weekend duals are broadcast on KXIC (AM 800) and audio-streamed online on hawkeyesports.com. For tickets, click HERE.