Hawkeye Fan Shop — A Black & Gold Store | Fight For Iowa | Northwestern.Penn State Notes
THIS WEEK FOR THE HAWKEYES
The University of Iowa women's tennis team competes both on the road and at home this weekend to start Big Ten play. The Hawkeyes travel to Evanston, Illinois, to play Northwestern on Friday at 5 p.m. CT. This match will not count towards the Big Ten Conference standings, it is being played as a non-conference game. Iowa returns home Sunday to host Penn State at 11 a.m. (CT) in its Big Ten opener.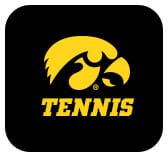 QUOTING SASHA SCHMID
"A lot of team dynamics take on a life of its own and can become contagious, and it's great for this team to see teammates competing well and being able to win close, three-set battles. That starts to create team culture and that's important. It's building and the team has laid a good foundation for the first third of the season. We're entering the second third that has some great competition with the mix of Big Ten play and our non-conference schedule. Our goal is to continue to build off each third of the season and finish strong at the Big Ten tournament."
HAWKEYES REMAIN UNDEFEATED
Iowa extended its winning streak to seven after defeating Marquette, 4-3, on Feb. 19 in Milwaukee. It's just the second time in the past 10 seasons Iowa has opened the season with seven straight victories. Iowa opened the 2017 season 9-0.
TAKING ON THE WILDCATS
Saturday's match will be the 48th meeting all-time between the Hawkeyes and the Wildcats. Northwestern leads the series, 45-2. The previous match between the two programs was last season, where the Hawkeyes fell to Northwestern, 6-1. The Hawkeyes' last win over the Wildcats dates back to 1992, where Iowa defeated Northwestern, 5-4.
TAKING ON THE NITTANY LIONS
Sunday's match will be the 34th meeting between the Hawkeyes and the Nittany Lions. The Hawkeyes lead the all-time series, 26-7. The previous match between the two programs came last season, where Iowa dropped the match, 5-2. Iowa's last win over Penn State came in 2017, 6-1.
ROLLING, ROLLING, ROLLING
Freshman Sophie Clark (6-0) and junior Elise van Heuvelen Treadwell (6-1) have both racked up six singles wins. Clark has yet to lose a singles match at the No. 4 position. Van Heuvelen Treadwell also holds a 6-1 doubles record along with partner Adorabol Huckleby at the No. 1 doubles position.
BIG TEN PLAY BEGINS
Last season, the Hawkeyes won two of their nine regular season Big Ten matches. This season, the Hawkeyes have five road and six home Big Ten matches scheduled.
FOLLOW THE HAWKEYES
Links to live results will be available on the women's tennis schedule page at hawkeyesports.com.