Hawkeye Fan Shop — A Black & Gold Store | Hawk Talk Monthly — February | 24 Hawkeyes to Watch 2018-19 | I-Club Events Page | Game Notes
By DARREN MILLER
hawkeyesports.com
IOWA CITY, Iowa — Kathleen Doyle had an eye on the future while playing her way to Illinois Miss Basketball as a senior at Benet Academy in 2016.
 
From there, she wanted to represent a Big Ten Conference institution located close to her home in LeGrange Park, Illinois. She wanted to play in front of large crowds. She wanted to compete for a successful program.
 
And…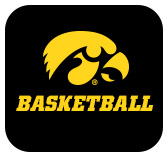 "As a player, you want to play for championships," Doyle said.
 
The 5-foot-9 junior sparkplug continues to check things off her collegiate to-do list at the University of Iowa. The 10th-ranked Hawkeyes (21-5 overall) have won 20-or-more games in all three seasons with Doyle on the roster. Nearly 11,000 fans were at Iowa's most recent home game in Carver-Hawkeye Arena. With three Big Ten regular season games remaining, Iowa is 12-3 and tied with Maryland on top of the league standings (the Hawkeyes own the tiebreaker).
 
"You work to have your destiny in your own hands," Doyle said Wednesday at a news conference in Carver-Hawkeye Arena.  
 
Then she paused, knowing that 12 wins is not enough to win a Big Ten regular-season championship.
 
"We have to get those three wins," Doyle said. "We have to focus on the next one in front of us (Thursday at Indiana), because the one after that won't matter unless you get the job done on the first one."
 
Iowa has won 10 of its last 11 games and two straight road games. Indiana is 17-10 overall, 6-9 in the Big Ten, but everyone in the Hawkeye camp knows that the Hoosiers are a dangerous foe, despite dropping their last four games.
 
"We tried to quickly get the focus back on to this team and talk about how elite teams perform and how they prepare," Iowa head coach Lisa Bluder said. "They prepare the same way every single day. We don't lose our focus because we went up to No. 10 in the country in the rankings. Instead, we're going to let that sharpen us."
 
The buzz surrounding Iowa's 86-73 win over Maryland on Feb. 17 continued when the Hawkeyes cracked the top 10 in both The Associated Press and Coaches Poll for the first time since December of 1996. That is the same year Iowa All-American center Megan Gustafson was born.
 
"It's exciting to see our hard work pay off and we have to keep it going," said Gustafson, who averages 27.4 points and 13.1 rebounds per game. "We have the confidence and we know we're a top 10 team. Because we're a top 10 team doesn't mean we don't have anything to prove. We do and we have to take that into everything we do from here on out."
 
For the Hawkeyes, a blessing in disguise might have been a 90-81 loss at Michigan in a weather-rescheduled game Jan. 31. Iowa trailed 26-15 after the first quarter and allowed a season-high in points against a Big Ten opponent.
 
Bluder has seen a different mindset from her team since then.
 
"They are very driven, focused, and locked in," Bluder said of her team. "Maybe that Michigan loss did that for us. It showed us you can't take any day or practice off. Ever since that game our team has been dialed in and ready to go to work."
 
Doyle scored 22 points with six steals in the setback against the Wolverines.
 
"After we lost the Michigan game it was a little bit of a turning point for us to lock in and we have ourselves in a great position here at the end of the Big Ten regular season," added Doyle. "We're going to take it one game at a time, that's all we can do."
 
Iowa and Indiana tip-off Thursday at 7 p.m. (CT) from Assembly Hall in Bloomington, Indiana. The game will be televised on BTN with Mike Monaco and Brenda VanLengen calling the action.