Hawkeye Fan Shop — A Black & Gold Store | Hawk Talk Monthly — March | 24 Hawkeyes to Watch
By JAMES ALLAN
hawkeyesports.com
IOWA CITY, Iowa — Tanner Wetrich is back to having fun on the diamond for the University of Iowa baseball team. Following a disappointing junior season, it took the summer and fall to get him there.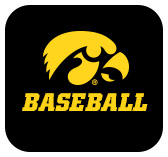 During the Hawkeyes' 33-win 2018 season, Wetrich was a role player for the first time in his baseball career.  He came to Iowa as a shortstop, but only started one game at the position last season with 15 of his 20 starts coming in left field. 
 
Offensively, Wetrich struggled to a .224 average with 14 runs and 11 RBIs in 74 plate appearances.
 
"Last year was the first time I have struggled like that and the first year I didn't play every game," said Wetrich, a senior from Moberly, Missouri. "I knew when I left last spring that I wasn't happy with the way things went.
 
"I knew I couldn't live with myself being like that. It was motivating for me and it was something I had to overcome and work harder to overcome."
 
It started with summer ball when Wetrich went to Georgia to play in the Coastal Plains League for the Macon Bacon.  He left friends and family in the Midwest to focus on baseball, restoring his confidence, and most importantly, enjoying the game.
 
"It was going back, having fun, and making sure that having fun was the focal point this year along with having confidence," said Wetrich. "When I was down there, I didn't have anything to worry about.
 
"I was motivated to make sure I spent my senior year the way I wanted and I worked hard to get to that spot.  I knew there were a bunch of things I needed to work on to come back and have a solid senior year."
 
When Wetrich returned to campus in the fall, he found a new focus. He strived for consistency both in the field and at the plate.
 
"Offensively, we had (former hitting coach Joe Migliaccio) come in and we changed a lot of things (with my swing)," said Wetrich. "My goal was to make myself more comfortable at the plate. Last year I wasn't comfortable at the plate in games, this year is a whole different story."
 
That comfort level has paid off.
 
Wetrich has been a steady presence in Iowa's lineup during the team's 6-4 start to the 2019 season, which includes taking two of three games last weekend at No. 19 Oklahoma State. Through the first 10 games, Wetrich is hitting .275 (11-of-40) with two home runs, seven runs, and seven RBIs.  He is tied for the team-high with four multi-hit games.
 
"I have confidence and trust the work I have put in this fall is going to pay off," said Wetrich. "I am not focusing on the results. Focusing on the process of getting better every day has been the big key for me during the first part of this season."
 
The other key is Wetrich is back to having fun.