Hawkeye Fan Shop — A Black & Gold Store | Hawk Talk Monthly — March | 24 Hawkeyes to Watch 2018-19 | Sam Stoll Sidebar | Hawkeye Huddle – Minneapolis | I-Club Events Page | Complete Notes (PDF) | Big Ten Championships
By JAMES ALLAN
hawkeyesports.com
 
IOWA CITY, Iowa — Junior Pat Lugo has been waiting two years to rekindle that championship feeling.  He will get his chance when he takes the mat for the University of Iowa wrestling team at the 2019 Big Ten Championships.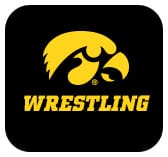 "I haven't had a taste of (championship wrestling) for a couple of years. I am ready to go," said Lugo, who is pre-seeded third at 149 pounds. "My body feels good, my mind is good, and my weight is under control.
 
"I have been dreaming about this my whole life, wrestling for a big-time program like Iowa and winning a national title."
 
It will be Lugo's first postseason since 2017 when he wrestled for Edinboro. He cruised to the Eastern Wrestling League (EWL) title at 149 pounds with two falls and a 17-2 technical fall victory over George Mason's Sahid Kargbo in the finals. He followed by going 1-2 at the 2017 NCAA Championships.
 
Heading into the 2019 championship season at Williams Arena in Minneapolis, Lugo knows the Big Ten is a completely different animal.
 
"If you look at the guys that go to the EWL, it was two or three good guys," said Lugo. "Now it's six or seven. It's a big deal; the Big Ten is different."
 
Lugo finished his first regular season as a Hawkeye with a 15-6 record.  He started the year winning just one of his first four matches before reeling off five consecutive victories.  After rotating wins and losses over a five-match stretch, Lugo closed the season on a seven-match winning streak, including a 7-4 victory over sixth-ranked Kaden Gfeller of Oklahoma State on Feb. 24.
 
"We talk about it in the room a lot, peaking is a mindset," said Lugo. "It's not something you can physically do. In the beginning of the season, I had to figure some things out and I had a couple of things I had to tweak.  I am doing well at the end of the season now."
 
Lugo says his conditioning has improved and he has learned how to cut weight. It's what to eat, when to eat it, and where he should be weight-wise before and after dual meets.
 
"All the little things make a difference," he said. 
 
Lugo has also learned how to control his emotions, which should serve him well in a tournament setting. 
 
"I have learned how to get up from a deep hole and how to stay level headed after a big match," Lugo said. "It's keeping my highs where they need to be and my lows where they need to be."
 
Lugo is 4-2 all-time against the Big Ten Championship 149-pound field. His two losses are to top-seeded Anthony Ashnault of Rutgers, 3-1 in sudden victory, on Jan. 18 in Carver-Hawkeye Arena and to second-seeded Micah Jordan of Ohio State, 7-3, in Las Vegas in 2016.
 
"Every guy is tough, you can't overlook anybody you wrestle," Lugo said. "You have to come in with the same mindset if a guy is ranked No. 1 or not ranked at all.
 
"I want to wrestle the best I can. My conditioning is good and my confidence is high.  I am ready to go to the Big Tens this week and do some damage."
 
Session I of the Big Ten Championships begin Saturday at 10 a.m. (CT). BTN Plus will provide live video streams of the entire tournament, while Sunday's finals will be televised on BTN beginning at 3 p.m.