Hawkeye Fan Shop — A Black & Gold Store | 24 Hawkeyes to Watch 2018-19 | Hawk Talk Monthly — March | I-Club Events Page | 2019 NCAA Brackets | NCAA Championships Central | 9 Hawkeyes Advance to NCAAs
By DARREN MILLER
hawkeyesports.com
IOWA CITY, Iowa — PPG Paints Arena in Pittsburgh, site of the 2019 NCAA Wrestling Championships, holds 19,758. That means roughly 10,000 could be there to support University of Iowa redshirt freshman Max Murin.
 
Murin, who won two individual state championships at Central Cambria High School in Ebensburg, Pennsylvania, is making his first trip to the NCAA Championships after placing seventh at 141 pounds at the Big Ten Championships on March 9-10 in Minneapolis.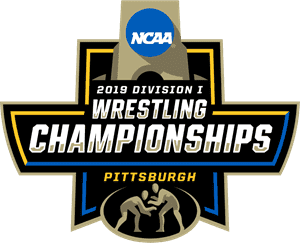 "I think half the arena will probably be my family and friends," Murin said. "There are a lot of them going. It will be a good experience, especially for my first one."
 
Four native Pennsylvanians-turned-Hawkeyes will compete at nationals. Joining Murin are sophomores Spencer Lee at 125 (Murrysville), Austin DeSanto at 133 (Exeter), and Kaleb Young at 157 (Punxsutawney).
 
Murin wrestled five matches at the conference championships and earned several battle wounds as proof, including a black eye and a muddled forehead that required taping.
 
"My body is pretty beat up, mostly my face," Murin said. "It looks like I got mugged."
 
Murin wrestled live for 35 minutes in two days in Williams Arena, winning three of five matches. His reward for four tough Saturday matches was a single bout Sunday…against the top seed in the seventh-place match.
 
"The top eight guys (at 141 pounds) are all really good wrestlers," Murin said. "If we wrestled the tournament over again it would be another placement. They are good wrestlers, so I have to go out there and wrestle my hardest."
 
Murin was the first Hawkeye on the mat at the Big Ten Championships, blanking Nate Limmex of Purdue, 4-0. He lost to second-seeded Nick Lee of Penn State, 8-3, in the quarterfinals and slipped to the backside of the bracket. In wrestle-backs, he defeated Pete Lipari of Rutgers, 6-2, lost to Mitch McKee of Minnesota, 2-1, and knocked off top-seeded Michael Carr of Illinois, 3-1. Carr defeated Murin, 6-3, in a dual in Champaign, Illinois, on Jan. 25.
 
"I lost to him on a last-second takedown, so it feels good to get a little revenge," Murin said. "(Carr) is a good wrestler and I hope to see him again."
 
Murin emerged for the Hawkeyes at 141 this season over 2018 NCAA qualifier Vince Turk, who started duals at Nebraska and Wisconsin. According to InterMat, seven of the top 12 nationally in the weight class are from the Big Ten; Murin is ranked 18th. But the bracket at 141 is volatile: In the past week, 12 of the top 18 wrestlers at that weight found themselves with a different ranking.
 
Because of that, Murin's experience going through an "up-for-grabs" division at Big Tens should prove beneficial at nationals where anything can happen.
 
"I want to win any tournament I go to, but when you lose, you have to get the next best thing," Murin said. "I didn't come to (the Big Ten Championships) to get seventh place. You always have to go after the next best thing, whether you are in the championship bracket and going for first or going for seventh. It is an individual tournament, but the more wins you get, the better your team does."
 
Murin heads to Pittsburgh with a record of 15-8. Half of his losses were by a takedown or less and two others were by three points. He is battle-tested.  
 
"I lost a bunch of close matches this year, probably more than a handful," Murin said. "It feels good to finally win one (over Carr) and move forward. I'm always looking forward to the next best thing."
 
The next best thing for Murin is the best thing in college wrestling. He will have plenty of support cheering him on.