Hawkeye Fan Shop — A Black & Gold Store | 24 Hawkeyes to Watch 2018-19 | Hawk Talk Monthly — March | I-Club Events Page | 2019 NCAA Brackets | NCAA Championships Central | 9 Hawkeyes Advance to NCAAs | NCAA Notes
ON THE MAT
The University of Iowa wrestling team travels to Pittsburgh to compete at the 2019 NCAA Championships on March 21-23 at PPG Paints Arena. The three-day tournament begins Thursday with Session I starting at 11 a.m. (CT) and Session II at 6 p.m. Sessions III (quarterfinals) and IV (semifinals) begin Friday at 10 a.m. and 7 p.m. The medal round starts Saturday at 10 a.m., and the championship finals begin Saturday at 6 p.m.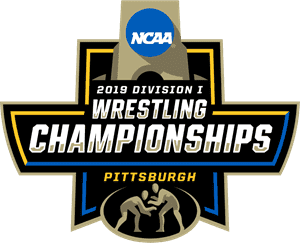 ESPN COVERAGE OF THE CHAMPIONSHIPS
ESPN will provide primetime coverage of the three-day tournament for the third year in a row. ESPN will televise the second round (March 21), semifinals (March 22), and finals  March 23) on prime time. ESPNU will televise the first round (March 16), quarterfinals (March 17) and medal round (March 18).
     WatchESPN will carry individual mat feeds throughout the entire tournament allowing fans to choose which wrestlers and/or schools to follow at any time. Eight mats will be used for the first, second and quarterfinals, before the competition is reduced to six mats for the semifinals, three mats for the medal round and one mat for the finals.
     ESPN3 will add a postgame show to its previously existing pregame show and complementary Championship night coverage, serving fans with even more content on the sport's pinnacle night.
 
LIVE RESULTS
Live results will be available on the Iowa wrestling schedule page at trackwrestling.com.
 
VIDEO EXCLUSIVE
hawkeyesports.com, the official website of the Iowa Hawkeyes, will have exclusive video highlights for all sessions of the NCAA Wrestling Championships.
 
NCAA CHAMPIONSHIPS OUTSTANDING WRESTLERS
Ten different Hawkeyes have been named the NCAA Championships Outstanding Wrestler. They include Chuck Yagla (1976), Bruce Kinseth (1979), Jim Zalesky (1984), Barry Davis (1985), Mary Kistler (1986), Tom Brands (1992), Terry Steiner (1993), Lincoln McIlravy (1997), Joe Williams (1998) and Brent Metcalf (2008).
 
All-american streak
Iowa has three returning All-Americans in its lineup. Senior Sam Stoll, and sophomores Spencer Lee and Alex Marinelli all reached the medal stand in 2018. Lee won the 125-pound NCAA title. Stoll placed fifth at 285, and Marinelli placed sixth at 165. Michael Kemerer placed fourth at 157 last season, but has missed this year due to injury.
     The Hawkeyes have crowned at least one All-American in 47 consecutive seasons, a stretch dating back to 1972. Iowa has totaled 283 All-America honors during that stretch.
 
9 qualifiers
Eight of Iowa's nine qualifiers earned automatic bids to the NCAA tournament at the 2019 Big Ten Championships. Sam Stoll received an at-large bid from the NCAA selection committee.
     Iowa has sent at least eight athletes to the NCAA Championships in each of head coach Tom Brands' 13 seasons. The Hawkeyes won national titles with a nine-man lineup in 2008 and 2009. In 2008, Iowa had seven All-Americans and two NCAA champions. In 2009, Iowa won the team crown with five All-Americans but no champions. 
    
NCAA EXPERIENCE
The Hawkeyes have six wrestlers with previous NCAA experience, and three wrestlers making their national tournament debuts.
 
•   FIRST TIMERS: Max Murin (R-Fr. 141), Kaleb Young (So. 157), Jacob Warner (R-Fr. 197).
•   BACK FOR SECONDS: Returning NCAA champion Spencer Lee (So. 125), Austin DeSanto (So. 133), Pat Lugo (Jr. 149), All-American Alex Marinelli (So. 165),
•   THIRD TIME IS THE CHARM: Cash Wilcke (Jr. 197), All-American Sam Stoll (Sr. 285).
 
hawkeyes IN THE FINAL
Spencer Lee advanced to the finals and won the NCAA title at 125 pounds in 2018 to extend Iowa's streak of NCAA finals appearances to 29 consecutive years.
     Iowa has had at least one wrestler in the national finals every year since 1990, and in 43 of the last 44 seasons dating back to 1975.
 
FRESHMAN QUALIFIERS
Iowa has two freshmen in the NCAA championships. Redshirt freshman Max Murin is the No. 22 seed at 141, and redshirt freshman Jacob Warner is seeded fifth at 197.
     Since 2007, Brands first NCAA championships as Iowa's head coach, 19 freshmen have qualified for the NCAA tournament and eight have gone on to win All-America honors (Matt McDonough 2010; Derek St. John, 2011; Bobby Telford, 2012; Cory Clark, 2014; Brandon Sorensen, 2015; Michael Kemerer, 2017; Spencer Lee, 2018; Alex Marinelli, 2018). McDonough won the national title in 2010 at 125 pounds. Lee won the national title in 2018 at 125 pounds.
 
SAME TOURNEY, NEW LOOK
Sophomore Austin DeSanto and junior Pat Lugo have NCAA tournament experience, but are making their first appearances as Hawkeyes.
    DeSanto was 2-2 at the 2018 NCAA Championships wrestling as a true freshman at Drexel. He won his first match, but was defeated in the second round by eventual NCAA finalist Stevan Micic.
    Lugo competed for Edinboro at the 2016 and 2017 NCAA Championships. He was seeded 16th as a freshman in 2016 and reached the round of 12. He was the No. 8 seed in 2017 and went 1-2.
 
pa homecoming
The NCAA Championships return to Pittsburgh for the first time in more than 60 years, as the city last held the event in 1957. Four Hawkeyes are returning to their home state for the NCAA Championships. They include Spencer Lee, Austin DeSanto, Max Murin, and Kaleb Young.
    Lee was a three-time state champion at Franklin Regional High School in Murrysville, Pennsylvania (18 miles from Pittsburgh).
    DeSanto, from Exeter, won the 2017 high school state championship (275 miles from Pittsburg).
    Murin won two state titles at Central Cambria in Ebensburg (72 miles from Pittsburgh)
    Young won the 2016 state title for Punxsutawney Area in Punxsutawney, Pennsylvania (79 miles from Pittsburgh). 
    Homestead, Florida, native Pat Lugo competed at Edinboro from 2015-17 (110 miles).
 
STOLL WINS GORRIARIAN TROPHY
Senior Sam Stoll won the Gorriaran Trophy at the 2018 NCAA Wrestling Championships. The award is presented annually to the wrestler who records the most pins in the least amount of time at the national tournament. Stoll placed fifth at 285 pounds, recording a tournament-best three falls in a combined time of eight minutes, 50 seconds.
    He is the sixth Hawkeye in program history to earn the award. The others include Sherwyn Thorson (1962), Bruce Kinseth (1979), Lou Banach (1983), Doug Streicher (1990), and Mark Perry (2006).
 
UNDEFEATED HAWKEYES
Sophomore Alex Marinelli enters the NCAA Championships with an undefeated record.  
    Marinelli is 23-0 overall, posting a 20-0 mark in the regular season and winning three matches en route to the 2019 Big Ten Championship. His 23-match winning streak is the longest by a Hawkeye since Thomas Gilman won his first 30 matches of the 2016-17 season.
    He scored a team-high 77 points in 15 dual matches, averaging 5.13 team points per dual, the most by a Hawkeye since Brent Metcalf averaged 5.35 in 2009-10.
    Marinelli completed an undefeated regular season for the second time in as many seasons. He was 14-0 in 2018 entering the postseason. He is 34-0 in the regular season with a pair of Midlands titles, 10 falls, and seven wins over top 10 opponents.
    In the history of Iowa wrestling, 15 wrestlers have finished the season with a perfect record (minimum 20 matches). Four of those wrestlers were able to perform the feat twice. They include Mark Ironside, Lincoln McIlravy, T.J. Williams and Jim Zalesky. Iowa coaches Tom Brands and Terry Brands are among the 15 wrestlers. Tom went 45-0 in 1990-91 and Terry went 35-0 in 1991-92.
 
A PERFECT (BIG) TEN
Sophomore Alex Marinelli rolled through the Big Ten Championships with three straight decisions to win the 165-pound bracket. The conference title was the first of his career, and the 200th individual Big Ten title in school history.
    Marinelli was 9-0 in Big Ten duals, becoming the first Iowa wrestler to win all nine conference duals since Thomas Gilman in 2017.
    Marinelli was 9-0 in the Big Ten with two major decisions, four falls, and one win by stalling disqualification. He scored 44 of a possible 54 team points in Big Ten dual competition. Marinelli is 17-0 all-time in Big Ten duals. He was 8-0 last year.
    Since 2007, Tom Brands' first season as Iowa head coach, a wrestler has navigated a perfect Big Ten regular season 18 times. Since 2014-15, when the conference went to a nine-dual regular season schedule, five Hawkeyes have posted perfect 9-0 records. Marinelli in 2018-19, Gilman did it three times (2015, 2016, 2017), and Alex Meyer, Brandon Sorensen, and Sam Stoll were all 9-0 in 2015-16.
LIGHT LIFTING
Spencer Lee and Austin DeSanto are a combined 36-7 with 27 bonus point victories. Lee, Iowa's sophomore 125-pounder, is 18-3 with 16 bonus-point wins (3 major decisions, 6 technical falls, 7 pins). DeSanto, Iowa's sophomore 133-pounder, is 18-4 with 11 bonus-point wins (5 major decisions, 4 technical falls, 2 pins).
 
ALL-AMERICAN DOMINANCE
Three of Iowa's four 2018 All-Americans — Spencer Lee (125), Alex Marinelli (165), and Sam Stoll (285) — are a combined 50-8 with 34 wins by bonus points. (Michael Kemerer, Iowa's fourth 2018 All-American, is out for the season).
 
CHASING THE HAWKEYES
Gary Kurdelmeier led Iowa to its first NCAA Championship in 1975, and in the 44 years since, the Hawkeyes have accumulated 23 team titles, more than any other school — Penn State (8), Oklahoma State (7), Minnesota (3), Iowa State (2), Ohio State (1) and Arizona State (1).
 
HAWKEYE WRESTLING HISTORY
Iowa earned its 1,000th dual win in program history Nov. 9, topping California State Bakersfield, 36-3, in Kent, Ohio. Iowa is one of four NCAA Division I schools with 1,000 program wins (Oklahoma State, Iowa State, Oregon State). The Hawkeyes' overall dual meet record is 1,013-232-31 (.799) in 109 seasons.
     The Hawkeyes have won 23 national titles and 35 Big Ten titles. Iowa's 55 NCAA Champions have won a total of 83 NCAA individual titles, crowning six three-time and 16 two-time champions. The Hawkeyes' 113 Big Ten champi-ons have combined for 200 conference titles. There have been seven four-time, 18 three-time, and 30 two-time Big Ten champions from Iowa.
     Iowa's 157 All-Americans have earned All-America status 329 times, including 20 four-time, 36 three-time and 40 two-time honorees.