Hawkeye Fan Shop — A Black & Gold Store | 24 Hawkeyes to Watch | Fight For Iowa | VIDEO — Samantha Mannix
By DARREN MILLER
hawkeyesports.com
IOWA CITY, Iowa — So much for easing into life as a collegiate student-athlete. Instead, University of Iowa freshman Samantha Mannix dove into the deep end with immediate results.
 
Mannix hasn't completed her first full year on campus and she is already alternating between No. 1 and No. 2 singles and doubles for the Hawkeye women's tennis team. Equally impressive, the health and human physiology major finished her first semester in the classroom with a 4.0 grade-point average (on a 4.0 scale).
 
Practicing and studying with that type of demanding schedule doesn't leave much time to spare.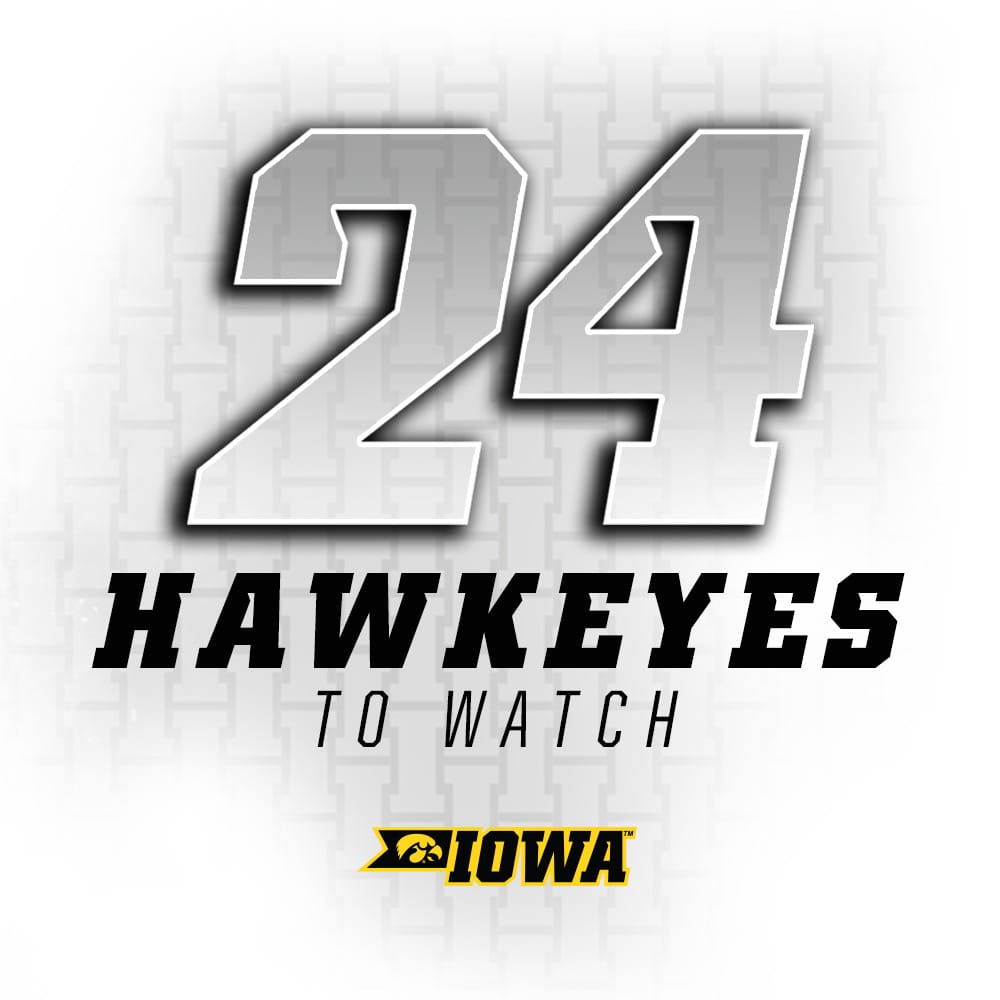 "In my head, I have to focus that I have class in the morning, practice in the afternoon, and after that I have to get my homework done and study as much as I can before I go to bed," Mannix said. "There are nights I don't want to, but you have to focus on your long-term goals and one of mine is to get all A's throughout my semesters. I still have to put in the work when I can."
 
Mannix comes to Iowa from Elkhorn South (Nebraska) High School, where she compiled a record of 114-0. She cruised through her final state high school No. 1 singles championship with a 6-0, 6-0 victory.
 
"High school is actually a very small part before playing in college," Mannix said. "College coaches don't necessarily look at high school because it's not as competitive as junior tennis. I tried to go to (USTA) Missouri Valley tournaments or national tournaments to get my ranking up so I could go to the national tournaments where college coaches watch and recruit you."
 
Mannix is a five-time Lincoln Tennis Association Junior Player of the Year, four-time Nebraska Junior Player of the Year, three-time USTA Missouri Valley Sweet 16 champion, two-time participant at USTA Hard Court Nationals, and Omaha Tennis Association Junior Player of the Year.
 
She lives less than an hour from the Nebraska-Lincoln campus, but in the end, it wasn't a difficult decision to choose the Hawkeyes over the Huskers or any other school.
 
"You have to take into consideration all the coaches, players, scholarships," Mannix said. "After thinking about academics and all the resources that are here for athletics, it was a pretty easy choice to pick Iowa over any other school that offered."
 
As of March 19, the Hawkeyes are 8-7 overall. After going 5-2 in singles and 3-3 in doubles during the fall season, Mannix is now 6-9 in singles, 7-5 in doubles during the spring season. That's a pretty impressive introduction to the Division I tennis scene.
 
"It has been a huge adjustment," Mannix said. "I haven't had this much (quality) competition back-to-back-to-back in my whole life. I have always gone to national tournaments, but that is only two weekends out of the year. It is an adjustment to switch to college and start playing at this higher level every single match."
 
So far, so good, for the 6-foot, right-handed rookie.
 
"She is hungry, always likes a challenge, and is settling into that position well," Iowa head coach Sasha Schmid said. "Someone who is a freshman playing at the No. 1 position is always going to be in contention for the Big Ten Freshman of the Year."
 
As a youngster, Mannix played several sports and her height was advantageous for basketball and volleyball. But at 6-years-old, she followed an older brother and sister to a random court, picked up a racquet, and starting swinging.
 
"I had to copy (my siblings)," Mannix said. "I realized how much I enjoyed it and kept going to lessons and finding out how good I could get."
 
Her parents searched for clinics and private lessons while Mannix sifted through coaches to find a comfortable fit.
 
"There is so much technique with tennis that eventually I stuck with one coach and there were a lot of changes to be made," Mannix said.
 
When Iowa's dual season began Jan. 18 against Xavier, Mannix notched victories at No. 1 singles (4-6, 6-3, 6-4 over Ahmeir Kyle) and No. 1 doubles (teaming with freshman Sophie Clark).
 
"It's an honor for me to play that high because that has been a goal of mine to achieve throughout my four years," Mannix said. "It doesn't matter what spot you're playing, because at the end of the day, each one of our matches is equated to the same game."
 
Schmid says Mannix is competitive and has excellent physical skills, which has allowed her to acclimate easily to the college game. Mannix is also interested in more than individual success.
 
"She wants to take this team to postseason play and also has goals of making NCAAs individually as a singles player and a doubles player," Schmid said. "We're looking ahead and excited to see all the things that she can accomplish."
 
Iowa returns to action Sunday at Ohio State, then returns home for a five-match home stand from March 29-April 13.