Hawkeye Fan Shop — A Black & Gold Store | 24 Hawkeyes to Watch 2018-19 | Hawk Talk Monthly — March | 2019 NCAA Brackets (updated) | Photo Gallery | NCAA Championships Central | 9 Hawkeyes Advance to NCAAs | I-Club Events Page
By DARREN MILLER
hawkeyesports.com
Tournament update: Buffalo wrestler Jake Gunning has withdrawn from the 2019 Division I Wrestling Championships. The first alternate, Jacob Aven from Purdue, has been notified and will be weighing in tomorrow and planning to compete. Gunning was the 23rd seed, so those wrestlers previously seeded 24-33 move up one seed line and Jacob Aven becomes the 33rd seed at 285. Iowa senior Sam Stoll (9-5) will now wrestle Michigan's fifth-seeded Mason Parris (29-7) in the first round Thursday.
PITTSBURGH — With four sophomores and two freshmen among its nine NCAA qualifiers, the University of Iowa fields one of the youngest teams contending for a national wrestling championship March 21-23 in PPG Paints Arena.
 
Making their first appearance on the NCAA national championship stage are freshmen Max Murin (141 pounds) and Jacob Warner (197), and sophomores Spencer Lee (125), Austin DeSanto (133), Kaleb Young (157), and Alex Marinelli (165).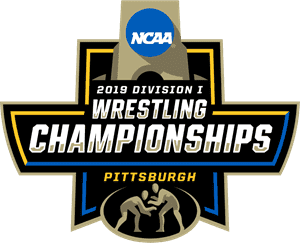 "These guys know what they want, they are excited to be here because they know this is the most important time of the year," Iowa head coach Tom Brands said at a news conference with four other head coaches Wednesday in PPG Paints Arena. "They feed off each other like all good teams do."
 
One of the most significant observations Brands noticed about his team came days after a regular season-ending 27-12 loss at Oklahoma State on Feb. 24 in Stillwater, Oklahoma.
 
"We got whipped at the end and sometimes when you get whipped at the end, you don't handle it well," Brands said. "We had 10 guys and 25 more at home that handled it pretty well. That's not making a prediction, but there was maybe a little hangover that first day at Big Tens in the first round, then maybe straightened out a little bit."
 
The Hawkeyes won nine matches on the final day of the Big Ten Championships on March 10 in Minneapolis, placing third in the team race with 107 ½ points. Marinelli won the 165-pound championship, 9-3, over two-time NCAA champion Vincenzo Joseph of Penn State.
 
Marinelli is the top-seeded 165-pounder at the NCAA Championships. Iowa has four others seeded in the top eight: Lee (third), Warner (fifth), Young (sixth), and DeSanto (seventh).
 
Brands, a four-time All-American and three-time national champion, was named Outstanding Wrestler at the NCAA Championships 27 years ago.
 
"Duplicate and exceed, that's what we want to do," Brands said. "We have a lot of coaches (on the Iowa staff) that did well in the sport and we want our guys to find their own path and exceed what we have done.
 
"It has never been about me or my experience, except how we mentor our guys and how we train them. This is about their path and we're about how these guys are maturing and getting their own chance at what they want to attain in the sport at the highest level: national, world, Olympic championships. We're recruiting guys that want to win national, world, and Olympic championships. Duplicate and exceed, that's what we want to have happen with our guys."
 
This is the first time the NCAA Wrestling Championships has been held in the state of Pennsylvania since 2011 when it was at Philadelphia's Wells Fargo Center. The only other time it has been in Pittsburgh was 1957 at Fitzgerald Field House on the campus of the University of Pittsburgh.
 
"It's a great venue, it's exciting when you walk in for the first time," Brands said. "It doesn't change anymore. It looks the same in Pittsburgh and Cleveland and Philadelphia and Des Moines, so it is exciting. It brings back good memories."
 
Session I begins Thursday at 11 a.m. (CT).