Hawkeye Fan Shop — A Black & Gold Store | Fight For Iowa | Photo Gallery
Columbus, Ohio — The University of Iowa women's tennis team fell to No. 14 Ohio State, 5-2, at the Varsity Tennis Center in Columbus, Ohio.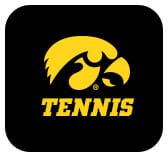 The Hawkeyes came out of the gate hot and picked up the doubles point.
The freshmen team of Samantha Mannix and Michelle Bacalla started the Hawkeyes off by defeating the team of Luna Domet and Danielle Wolf, 7-5.
Elise van Heuvelen Treadwell and Ashleigh Jacobs sealed the doubles point for Iowa with a win over No. 35 Isabelle Boulais and Shiori Fukuda, 6-3.
The Hawkeyes faced a more difficult challenge in singles play and dropped five of six singles matches, three to nationally ranked opponents.
Michelle Bacalla dropped her No. 5 singles match, 6-3, 6-0, to Danielle Wolf. Danielle Burich battled, but fell short to Ohio State's Mary Beth Hurley, 6-4, 6-3.
Elise van Heuvelen Treadwell was defeated by No. 78 Shiori Fukuda, 6-3, 6-1. Samantha Mannix was taken down by No. 35 Isabelle Boulais, 7-6 (2), 6-1. In a three-set match, Sophie Clark was dropped by #61 Kolie Allen, 6-0, 2-6, 6-1.
Ashleigh Jacobs picked up the lone singles victory for Iowa in her match against Luna Dormet, 6-3, 6-3.
 
 
QUOTING SASHA SCHMID
"Our team is battling and we are continuing to compete hard through these competitive matches. It's been tough to come short of four points, however our only option is to be resilient. There's no doubt progress is being made each time we play and we have to keep growing, maturing, and staying hungry for the team victory."
 
UP NEXT
The Hawkeyes return to action at home Friday, Mar. 29, against Purdue. The match is set to begin at 5 p.m. (CT) at the Hawkeye Tennis and Recreation Complex. 
 
No. 14 Ohio State 5, Iowa 2
 
Doubles
1. Elise Van Heuvelen Treadwell/ Ashleigh Jacobs (Iowa) def. #35 Isabelle Boulais/ Shiori Fukuda (OSU), 6-3
2. Kolie Allen/Andrea Ballinger (OSU) def. Sophie Clark/ Danielle Bauers (Iowa), 6-3
3. Samantha Mannix/Michelle Bacalla (Iowa) def. Luna Domet/Danielle Wolf (OSU), 7-5
Singles
#78 Shiori Fukuda (OSU) def. Elise Van Heuvelen Treadwell (Iowa), 6-3, 6-1
#35 Isabelle Boulais (OSU) def. Samantha Mannix (Iowa), 7-6(2), 6-1
#61 Kolie Allen (OSU) def. Sophie Clark (Iowa), 6-0, 2-6, 6-1
Ashleigh Jacobs (Iowa) def. Luna Dormet (OSU), 6-3, 6-3
Danielle Wolf (OSU) def. Michelle Bacalla (Iowa), 6-3, 6-0
Mary Beth Hurley (OSU) def. Danielle Burich (Iowa), 6-4, 6-3
Match Notes:
Iowa: 8-8
No. 14 Ohio State: 14-2
Order of finish: Doubles (2,1,3); Singles (5,1,2,3,4,6)