Hawkeye Fan Shop — A Black & Gold Store | Fight For Iowa | Purdue.Indiana Notes
 
THIS WEEK FOR THE HAWKEYES
The University of Iowa women's tennis team returns home this weekend to host Purdue on Friday and Indiana on Sunday at the Hawkeye Tennis and Recreation Complex. The Hawkeyes host Purdue on Friday at 5 p.m. (CT) and Indiana on Sunday at 11 a.m. Admission is free.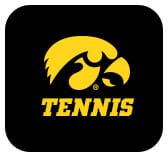 @SASHASCHMID ON RETURNING HOME
"We have a young and exciting team that has been through many tough situations, especially during this middle stretch, and they have matured through those moments. There is no substitute for match pressure situations and we have gained invaluable experiences since mid-February.  As a coach, I am proud of the progress and am looking forward to watching them compete strong during this final stretch of the season."
 
TAKING ON THE BOILERMAKERS
Friday's match is the 51st all-time meeting between the Hawkeyes and the Boilermakers. The series is tied, 25-25. Purdue won the last meeting, 6-1, in 2018.
 
TAKING ON THE HOOSIERS
 Sunday's match is the 47th all-time meeting between Iowa and Indiana. Indiana leads the all-time series, 35-11. Indiana won the last meeting, 4-3, in 2018. The Hawkeyes defeated the Hoosiers in 2017, Schmid's first season as head coach, 6-1.
 
HAWKEYE HOME STRETCH
Iowa is at home for its next five Big Ten matches. The Hawkeyes completed a seven-game road trip, going 1-6, and faced three nationally ranked opponents (Kansas State, Michigan, & Ohio State). Iowa, 12th in the Big Ten, is looking to bounce back and pick up a pair of key conference wins heading into the season's final stretch.
 
BECOME A FAN
Fans can follow the Iowa women's tennis team at facebook.com and via twitter @Iowa_Tennis. Live results from this weekend are available on the Iowa women's tennis schedule page at hawkeyesports.com.
 
FOLLOW THE HAWKEYES
 Links to live results and a live video stream will be available on the women's tennis schedule page at hawkeyesports.com/playsight.