Hawkeye Fan Shop — A Black & Gold Store | Fight For Iowa | Photo Gallery
IOWA CITY, Iowa – The University of Iowa women's tennis team picked up its fourth consecutive Big Ten victory with a 6-1 win over Mayland at the Hawkeye Tennis and Recreation Complex. The win moves Iowa to 12-8 on the season, 4-4 in the Big Ten.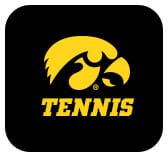 The Hawkeyes came out of the gates hot and picked up the doubles point.
Sophie Clark and Cloe Ruette picked up a quick win at No. 3 doubles, 6-2. Samantha Mannix and Danielle Bauers sealed the doubles point for the Hawkeyes in their win at the No. 2 position, 6-2. Elise van Heuvelen Treadwell and Ashleigh Jacobs match went unfinished, 4-4.
The Hawkeyes stayed hot in singles play, winning five of six matches.
Michelle Bacalla got the ball rolling for Iowa during singles play with a quick straight-set win over Zoe Kulkami, 6-2, 6-0, at No. 5. Van Heuvelen Treadwell also grabbed a straight-set win over Eva Alexandrova, 6-4, 6-4 at the No. 1 position. 
Danielle Burich clinched the victory for Iowa in her No. 6 singles win over Katsiaryna Yemelyanenka, 6-4, 6-3.
"My mindset has been to have no mercy and never give up," Burich said. "I need to keep on fighting and believing in myself."
Mannix fell to Mille Stretton, 6-4, 6-3, at No. 2. Jacobs picked up a win against Anastasia Gevel, 7-6, 6-2, at No. 3. Clark came away with a win over Arnelle Sullivan, 6-2, at No. 4.
QUOTING SASHA SCHMID
"We were young. We went through that tough middle stretch where we were on the losing side of 4-3 conference matches. Those put us behind in the standings but I never felt that was indicative of the team we had. I hoped that if we continued to work hard and understand that handling pressure a little better, which is in our control, that we would find some momentum and confidence. I think that's what they've been able to do."
UP NEXT
The Hawkeyes return to action Saturday hosting Nebraska at 12 p.m. (CT) at the Hawkeye Tennis and Recreation Complex. Saturday's match is the last home match of the season. 
 
Iowa 6, Maryland 1
April 7, 2019 | Iowa City, Iowa | 10 a.m. (CT)| Hawkeye Tennis and Recreation Complex
Doubles
1. Elise van Heuvelen Treadwell/Ashleigh Jacobs (IOWA) vs. Millie Stretton/Eva Alexandrova (MD), DNF 4-4
2.  Samantha Mannix/ Danielle Bauers (IOWA) def. Anastasia Gevel/Arnelle Sullivan (MD), 6-2
3. Sophie Clark/Cloe Ruette (IOWA) def. Saya Usui/ Katsiaryna Yemelyanenka (MD), 6-1
Singles
1.    Elise van Heuvelen Treadwell (IOWA) def. Eva Alexandrova (UMD), 6-4, 6-4
2.    Millie Stretton (UMD) def. Samantha Mannix (IOWA), 6-4, 6-3
3.    Ashleigh Jacobs (IOWA) def. Anastasia Gevel (UMD), 7-6, 6-2
4.    Sophie Clark (IOWA) def. Arnelle Sullivan (UMD), 6-2, 0-6, 6-4
5.    Michelle Bacalla (IOWA) def. Zoe Kulkarni (MD), 6-2, 6-0
6.    Danielle Burich (IOWA) def. Katsiaryna Yemelyanenka (UMD), 6-4, 6-3
Match Notes:
Iowa: 12-8
Maryland: 3-14
Order of finish: Doubles (3,2); Singles (5,1,6,2,3,4)