24 Hawkeyes to Watch 2018-19 | Hawk Talk Monthly – April | NCAA Leadership Forum
IOWA CITY, Iowa— University of Iowa field hockey junior Ryley Miller was selected to be the Big Ten representative at the 2019 NCAA Student-Athlete Leadership Forum in Orlando, Florida, April 11-14. 
 
Miller, who was one of Iowa's three team captains last season, was the Big Ten's female selection from countless nominations who have a good academic standing and have demonstrated the ability or a strong desire to lead.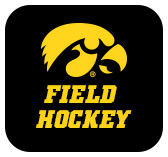 "I'm really honored and humbled to represent Iowa and the Big Ten at the NCAA Leadership Forum," Miller said. "There are so many great athletes and traditions at Iowa and in our conference, and I'm really excited that I was chosen to represent them."
 
The Leadership Forum allows student-athletes to return to campus with invaluable leadership skills, the experience of exploring the relationship between personal values, core beliefs and behavioral styles, and a thorough understanding of the NCAA as a whole, the different divisional perspectives and the valuable role of Student-Athlete Advisory Committees (SAAC).
 
"I look forward to gaining new leadership insights that I can share with my team and ISAAC," Miller said. "This spring the field hockey team has really focused on becoming better communicators to take our game to the next level. The leadership forum will provide me with invaluable communication skills to bring to my team this season."
 
"I've learned a lot about myself through my own journey at Iowa, both athletically and academically. However, the leadership forum is going to give me an opportunity to listen and learn from others experiences and continue my own growth."
 
At the Leadership Forum, student-athletes get the opportunity to engage with a diverse and dynamic representation of coaches, faculty, and administrators. 
 
The Leadership Forum, created in 1997, has been a life-changing experience for more than 5,000 student-athletes, many who have grown personally and professionally, gained a new network of peers and friends, as well as felt the rewards and importance of community service.
 
For more information about the leadership forum, please visit here.