Hawkeye Fan Shop — A Black & Gold Store | Photo Gallery | Fight For Iowa
IOWA CITY, Iowa – The University of Iowa women's tennis team fell to Nebraska Saturday, 4-2, at the Hawkeye Tennis and Recreation Complex.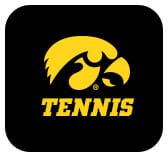 The Hawkeyes started slow and dropped the doubles point, losing at both No. 1 and No. 2. Adorabol Huckleby and Cloe Ruette won their No. 3 doubles match, 6-4.
Michelle Bacalla came out hot in singles play with a dominant win over Jessica Aragon, 6-1, 6-2, at No. 5.
Ashleigh Jacobs kept the ball rolling in her No. 3 singles win over Jeannie Lozowski, 6-3, 6-4. Samantha Mannix and Elise van Heuvelen Treadwell fell in their No. 1 and No. 2 singles matches.
Danielle Burich was dropped in a three-set heartbreaker to Hayley Haakenstad, 3-6, 6-3, 6-4, at No. 6. Sophie Clark's No. 4 singles match against Marina Cozac went unfinished.
QUOTING SASHA SCHMID
" I think every match in the Big Ten is a competitive match. Credit Nebraska for coming in here and fighting hard. They've had a tough season and they really brought it today. It's disappointing because we had some momentum, but we have to two tough road matches coming up. We have to pull ourselves up and not feel sorry for ourselves because Wisconsin and Minnesota are good teams. " 
UP NEXT
The Hawkeyes return to action Saturday at Wisconsin. The match is scheduled to begin at 12 p.m. (CT).  
Nebraska 4, Iowa 2
April 13, 2019 | Iowa City, Iowa | 12 p.m. (CT)| Hawkeye Tennis and Recreation Complex
Doubles
Vasanti Shinde/ Marina Cozac (NEB) def. Elise van Heuvelen Treadwell/Ashleigh Jacobs (IOWA), 6-4
Claire Reifeis/ Jessica Aragon (NEB) def. Samantha Mannix/Danielle Bauers (IOWA), 6-4
Adorabol Huckleby/Cloe Ruette (IOWA) def. Jeannie Lozowski/ Hayley Haakenstad (NEB), 6-4
Singles
1. Claire Reifeis (NEB) def. Elise van Heuvelen Treadwell (IOWA), 6-4, 6-2
2. Vasanti Shinde (NEB) def. Samantha Mannix (IOWA), 6-4, 6-0
3. Ashleigh Jacobs (IOWA) def. Jeannie Lozowski (NEB), 6-3, 6-4
4. Sophie Clark (IOWA) Marina Cozac (NEB), 6-2, 5-7, 3-5 (DNF)
5. Michelle Bacalla (IOWA) def. Jessica Aragon (NEB), 6-1, 6-2
6. Hayley Haakenstad (NEB) def. Danielle Burich (IOWA), 3-6, 6-3, 6-4
Match Notes:
Iowa: 12-9
Nebraska: 10-15
Order of finish: Doubles (1,3,2) ; Singles (5,3,2,1,6,)