Hawk Talk Monthly — April | Hawkeye Fan Shop — A Black & Gold Store | 24 Hawkeyes to Watch 2018-19 | I-Club Events Page | Hawkeyes Clinch 4th Place Ahead of NCAA Finals | NCAA Championships Central | Final NCAA Brackets
 IOWA CITY, Iowa — Six University of Iowa wrestlers and eight members of the Hawkeye Wrestling Club are set to compete this week at the 2019 Marine Corps U.S. Open in Las Vegas, Nevada.
 
The 14 wrestlers are competing in one of three divisions: senior men's freestyle, senior women's freestyle, and junior freestyle. All three divisions are contested at the South Point Hotel and Casino.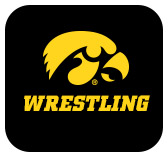 The U.S. Open is streamed live on FloWrestling.org. Qualifying procedures for the 2019 World Team are available at teamusa.org.
 
SENIOR MEN'S FREESTYLE
Thomas Gilman (57 kg), Cory Clark (61 kg), Paul Glynn (61 kg), Brandon Sorensen (70 kg), Jeren Glosser (70 kg), Sammy Brooks (86 kg)
Friday | 11 a.m. | Preliminaries, Quarterfinals, Consolation Rounds 1-3
Friday | 5 p.m. | Consolation Rounds 4-5
Friday | 7 p.m. | Semifinals
Saturday | 11 a.m. | Consolation, Placement Matches
Saturday | 4 p.m. | FINALS
 
SENIOR WOMEN'S FREESTYLE
Lauren Louive (57 kg), Alli Ragan (59), Kayla Miracle (62 kg), Forrest Molinari (65 kg)
Thursday | 11 a.m.  | Preliminaries, Quarterfinals
Thursday | 8 p.m.  | Semifinals, Consolation Rounds 1-4
Friday | 11 a.m. | Consolation Semifinals | Placement Matches
Friday | 8 p.m. | FINALS
 
JUNIOR FREESTYLE
Aaron Cashman (57 kg), Nelson Brands (74 kg), Connor Corbin (92 kg), Tony Cassioppi (125 kg)
Friday | 5 p.m. | Preliminaries, Consolation
Saturday | 11 a.m. | Preliminaries, Quarterfinals, Consolation
Saturday | 7 p.m. | Consolation, Placement Matches, FINALS