Hawkeye Fan Shop — A Black & Gold Store | 24 Hawkeyes to Watch
LINCOLN, NEB. – The University of Iowa women's tennis team took down No. 7 Indiana, 4-2, on Thursday in the opening round of the 2019 Big Ten Championships at the Dillon Tennis South Center in Lincoln, Nebraska.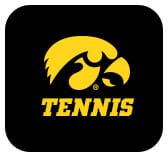 Iowa's win over Indiana marks its first Big Ten Tournament win since 2014 when they defeated No. 75 Michigan State, 4-2.
The Hawkeyes started off strong and grabbed an important doubles point. The doubles teams of Ashleigh Jacobs and Danielle Bauers, as well as Samantha Mannix and Cloe Ruette defeated their Indiana counterparts, 7-6.   
The Hawkeyes stood up to the challenge during the singles portion and notched enough wins to march on to the next round.
Junior Elise van Heuvelen Treadwell got the best of Madison Appel, defeating her 6-2, 6-2, at the No. 1 position.
Indiana tied the match 2-2 with wins at the No. 4 and No. 2 single positions.
Samantha Mannix picked up a crucial three-set No. win over Caitlin Bernard, 6-4, 2-6, 6-3, at No. 3 singles to give Iowa a 3-2 advantage.
Danielle Burich sealed the victory for the Hawkeyes in a three-set thriller, 6-2, 4-6, 7-5 at the No. 5 spot. Trailing 5-2 in the third set, Burich won five straight games to give Iowa its first Big Ten Tournament win since 2014.
QUOTING SASHA SCHMID
"Today was simply a huge win for our team. I'm so proud of them. This was a very hard fought back and forth match and our team really competed hard to win this match. We are excited to play a great opponent in Wisconsin tomorrow."
UP NEXT
The Hawkeyes return to action tomorrow, Friday, against No. 40 Wisconsin. The Hawkeyes and Badgers met last weekend in Madison, Wisconsin with Wisconsin taking the match, 4-2. The match is scheduled to begin at 2 p.m. (CT).  
Iowa 4 Indiana 2
 
April 25, 2019l Lincoln, Nebraska | Dillon Tennis South Center | ‪10 a.m. (CT)
 
Singles Competition
1. Elise van Heuvelen Treadwell (IOWA) def. Madison Appel (IND), 6-2, 6-2
2. Natalie Whalen (IND) def. Ashleigh Jacobs (IOWA), 6-2, 7-5
3.  Samantha Mannix (IOWA) def. Caitlin Bernard (IND), 6-4, 2-6, 6-3
4.  Jelly Bozovic (IND) def. Michelle Bacalla (IOWA), 6-4, 6-2
5.  Danielle Burich (IOWA) def. Michelle McKamey (IND), 6-2, 4-6, 7-5 
6.  Cloe Ruette (IOWA) vs. Somer Henry, 6-3, 6-7, 2-4 (UNF)
 
Doubles Competition
1.  #69 Madison Appel/Jelly Bozovic (IND) def. Elise van Heuvelen Treadwell/Sophie Clark, 6-3
2. Ashleigh Jacobs/Danielle Bauers (IOWA) def. Caitlin Bernard/Natalie Whalen (IND), 7-6
3. Sam Mannix/Cloe Ruette (IOWA) def. Somer Henry/Michelle McKamey (IND), 7-6
 
Match Notes:
Iowa 13-11, 4-7

Indiana 16-11, 6-5
Order of Finish: Doubles (1,2,3); Singles (1,4,2,3,5)