24 Hawkeyes to Watch | Hawkeye Fan Shop — A Black & Gold Store
LINCOLN, NEB. – The University of Iowa women's tennis team fell in their quarterfinal match to No. 40 Wisconsin, 4-3, at the 2019 Big Ten Championships at the Dillon Tennis South Center in Lincoln, Nebraska.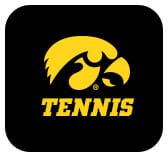 The Hawkeyes dropped the doubles point to the Badgers, falling at the No. 1 and No. 2 doubles positions.
Danielle Burich fell in her No. 5 singles match, 6-0, 6-4. Ashleigh Jacobs was dropped in her singles match, 6-3, 6-3, at the No. 2 position.  
Cloe Ruette picked up a straight-set win over Christina Zordani, 7-5, 6-2, at the No. 6 position. Samantha Mannix took control in the third set of her No. 3 singles match defeating Anna Makarova, 6-3, 2-6, 6-2.  
Elise van Heuvelen Treadwell stormed back after losing the first set to tie the match, 3-3, in her win over No. 80 Sara Castellano, 4-6, 6-1, 6-1. 
Michelle Bacalla fell in a heartbreaking fashion to Ava Markham, 6-1, 4-6, 6-1, at the No. 4 positon.
The Hawkeyes won 13 games this season, the second most under head coach Sasha Schmid and the third most since the 2009-2010 season. Iowa reached the Big Ten Tournament for the first time since 2016 and grabbed a win in the postseason for the first time since 2014.
 
The conference will announce its All-Big Ten teams on Thursday, May 2. 
QUOTING SASHA SCHMID
"Our team grew so much this year.  We had a young team and they all worked hard and really martyred in every way this year. I'm really proud of this group. They played hard today and came up a bit short. It's tough right now, but once we all can reflect on the season and this match we will be very proud and motivated for the future. We have a group of great young woman on our team and I'm very excited about the future of Hawkeye Tennis." 
 
Wisconsin 4, Iowa 3
 
April 26, 2019 l Lincoln, Nebraska | Dillon Tennis South Center | ‪2 p.m. (CT)
 
Singles Competition
1. Elise van Heuvelen Treadwell (IOWA) def. #80 Sara Castellano (WISC),4-6, 6-1, 6-1
2. #123 Lexi Keberle (WISC) def. Ashleigh Jacobs (IOWA), 6-3, 6-3
3.  Samantha Mannix (IOWA) def. Anna Makarova (WISC), 6-3, 2-6, 6-2
4.  Ava Markham (WISC) def. Michelle Bacalla (IOWA), 6-1, 4-6, 6-1
5.  MaryAnn Rompf (WISC) def. Danielle Burich (IOWA), 6-0, 6-4 
6. Cloe Ruette (IOWA) def. Christina Zordani (WISC), 7-5, 6-2 
 
Doubles Competition
1.   Lexi Keberie/Anna Makarova (WISC) def. Elise van Heuvelen Treadwell/Sophie Clark (IOWA), 7-6
2. Christina Zordani/Sara Castellano (WISC) def. Ashleigh Jacobs/Danielle Bauers (IOWA), 6-4
3. Sam Mannix/Cloe Ruette (IOWA) vs. Melissa Pick/Ava Markham (WISC), 6-5
 
Match Notes:
Iowa 13-12, 4-7

Wisconsin 18-4, 9-2
Order of Finish: Doubles (2,1); Singles (5,2,6,3,1,4)