24 Hawkeyes to Watch 2018-19 | Hawk Talk Monthly – May | Hawkeye Fan Shop — A Black & Gold Store
IOWA CITY, Iowa — The University of Iowa baseball team will play its final midweek game of the season Tuesday, facing Western Illinois at Alfred D. Boyer Stadium in Macomb, Illinois.  First pitch is set for noon (CT).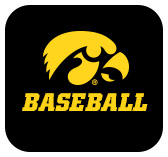 The Hawkeyes are 30-19 overall after dropping its first series since late March when Michigan State took two of three games from May 10-12 at Duane Banks Field.  Western Illinois is 20-28 overall after taking two of three games from Summit League-leading Omaha last weekend in Macomb.
 
Tuesday's game will be the second meeting of the season between the two schools.  Iowa won the first game, 8-7, on May 1, holding off a ninth-inning Leatherneck rally.  Freshman Duncan Davitt earned the win, tossing two perfect innings and fanning four.
 
Sophomore Trenton Wallace will take the mound for his fourth start of the season Tuesday.  The southpaw is 1-1 with a 6.66 ERA in 13 appearances, where he has 29 strikeouts in 24 1/3 innings.
Western Illinois will counter with RHP Justin Foy, who is 0-5 with a 5.55 ERA in 17 appearances, including seven starts.  Foy has allowed 30 run (22 earned) on 30 hits over 35 2/3 innings.  He has 44 strikeouts, but has issued 49 walks.
 
Tuesday's game will not be video streamed, but will be broadcast on the Hawkeye Radio Network with Zach Mackey on the call. 
 
Following the midweek game, the Hawkeyes will close out the regular season with a Thursday-Saturday three-game series at Maryland.  Friday's series opener is set for 5:30 p.m. (CT).